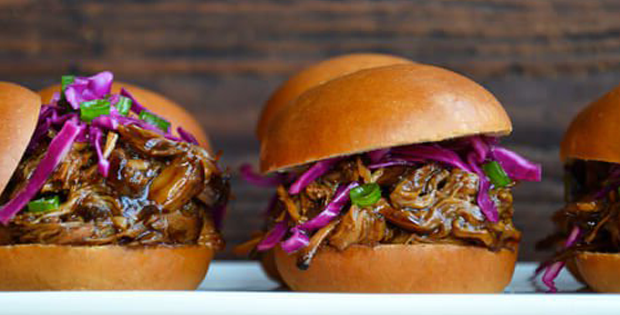 A very tender pork dish with a mouthwatering sauce.        
There are tons of pulled pork recipes that I have tried and shared in this site. Some of them are the Dr. Pepper Pulled Pork, Smoky Pulled Pork, Pulled Pork with Caramelized Onions and Bbq Pulled Pork. All of which are truly unique and amazing. You can basically take your pick depending on the taste and occasion.
Here is yet another of them. But this time, the variety of ingredients makes it more interesting. And it is getting a whole lot of loving from me because it has balsamic vinegar in it. And just like the other pulled pork cooked in a slow cooker, the pork ends up super tender that it actually melts in your mouth. That's one of the many great things your slow cooker can do to any meat that you are cooking in it.
And the sauce, oh the sauce, is INCREDIBLE! The balsamic, honey, herbs, spices and the blackberry jam altogether makes a slam dunk sauce that will make every one who eats it beg for more. So try it out now and tell us what you think.
Check out the recipe below.
---
Slow Cooker Balsamic Honey Pulled Pork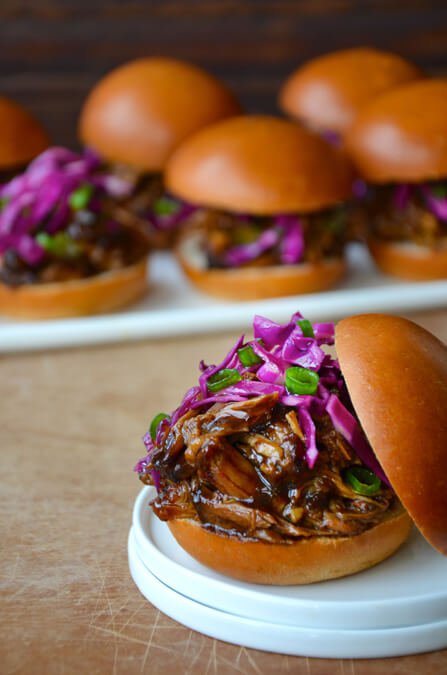 Ingredients:
1(2 1/2- to 3-pound) boneless pork shoulder
1/2 cup honey
1/2 cup balsamic vinegar
1/4 cup blackberry jam
1/4 cup hoisin sauce
1/2 cup chicken broth
3 cloves garlic, minced
1/2 cup diced onion
1 Tablespoon cornstarch
Asian Slaw or any type of coleslaw
12 slider-sized buns or rolls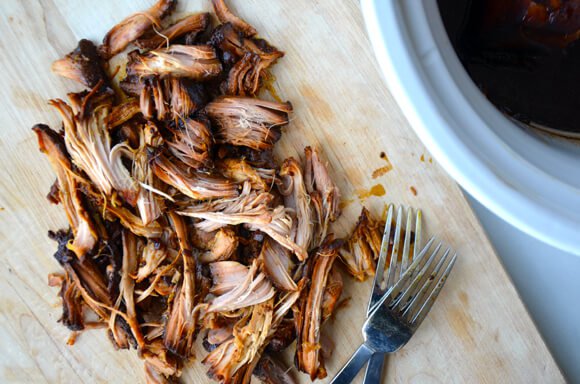 Instructions:
Trim any excess fat from the pork shoulder and place it in the slow cooker.
In a medium bowl, whisk together the honey, balsamic vinegar, jam, hoisin, chicken broth, garlic and onion, and then pour the sauce over the pork shoulder. Cover the slow cooker and cook the pork shoulder on LOW for 8 to 9 hours until it is no longer pink and is cooked throughout.
Using tongs, remove the pork shoulder from the slow cooker (reserving the liquids) and place it on a cutting board. Using two forks, shred the pork shoulder into smaller pieces. Place the pulled pork in a large bowl.
In a small bowl, whisk together the cornstarch with 3 tablespoons of cold water to make a slurry.
Transfer the liquids from the slow cooker into a medium saucepan set over medium-high heat and whisk in the slurry. Bring the sauce to a boil and cook it until it reduces and has thickened slightly, about 3 minutes. Pour the sauce over the pulled pork, tossing to combine.
Halve the buns. Divide the pulled pork between the buns, topping the pork with a portion of the Asian Slaw, and serve immediately.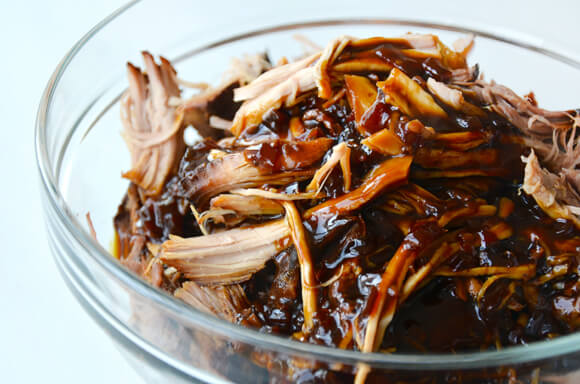 Notes:
If you don't have blackberry jam, you can use any other variety of jam, such as raspberry or plum.
Depending on your preferences, you may want to pour only a portion of the sauce over the pulled pork. Any leftover sauce can be served with other proteins or veggies.
The pulled pork and slaw can also be served in tortillas for pulled pork tacos.
A very big thank you to justataste.com for sharing this amazing recipe.