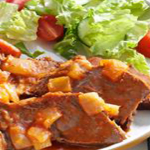 Yield: 8
Prep Time: 15 minutes
Cook Time: 8h 00 min
Print
An Aromatic Sassy Slow Cooker Pot Roast
This is the one of the best welcome home dishes you will ever try.
If you love coming home to an aromatic house from a dish you left cooking in your slow cooker the entire day, then this recipe is one that you should definitely try.
The scent your kitchen emits from the slow cooked idsh is just something that will make you drool and feel so at home and relaxed. If you want to make this a full meal, you can also add potatoes and carrots to it. This pot roast is a dish like no other giving you that comfort food outcome you would always want to go home to.
Check out the recipe below.
Slow Cooker Pot Roast
Instructions
Sprinkle beef with salt and pepper.
In a large skillet, brown beef in oil on all sides; drain.
Transfer to a 4-qt. slow cooker. Sprinkle with onion.
Combine the remaining ingredients; pour over meat.
Cover and cook on low for 8-10 hours or until meat is tender.
Skim fat. If desired, thicken cooking liquid.
And you can also make a killer soup for the next few nights if you have leftovers of this dish. It makes a 2-in-1 recipe that will be such a breeze for you especially when you are super busy.
Happy slow cooking!
A very huge thank you to tasteofhome.com for this amazing recipe.