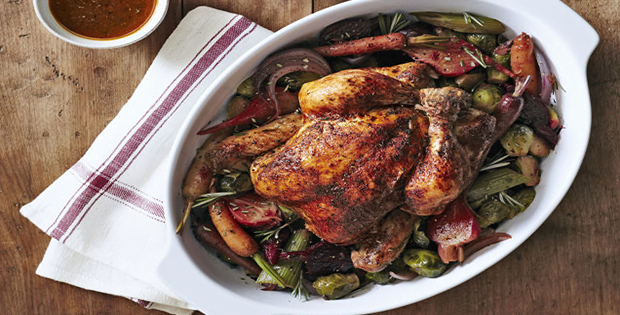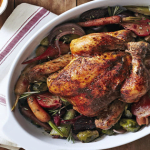 Yield: 6
Prep Time: 20 minutes
Cook Time: 8h 00 min
Print
Slow Cooker Herbed Chicken With Beets And Brussels
A very impressive yet super simple dinner option for your family and friends.
Who doesn't love chicken right? Well, I guess those who don't eat meat. But For those who love meat, I am sure chicken is always one go-to ingredient. This is especially true when you are out of time and in a rush to prepare something restaurant worthy.
This is one of my go-to recipes when I have friends or family visiting on short notice. You can never go wrong with serving chicken. And with this chicken recipe, your guests will totally think you ordered this from a restaurant and had it for take-out. Don't get overwhelmed by the instructions as they are actually very easy if you start on it already.
Check out the recipe below.
Herbed Chicken With Beets And Brussels
Instructions
Stir together first 4 ingredients. Remove and discard neck and giblets from chicken. Sprinkle chicken with salt mixture. Place lemon into cavity of chicken. Tie legs together with kitchen string, and tuck wingtips under.
Place celery, onion, and garlic in a single layer in a lightly greased 6-quart slow cooker. Place chicken on top of onions, breast side up. Arrange and tuck remaining vegetables around chicken. Sprinkle vegetables with any remaining salt mixture.
Cover and cook on low 8 hours or until done. Remove chicken to a serving dish. Rub skins from beets and cut into quarters; arrange with other vegetables around chicken. Garnish with rosemary. Whisk mustard into remaining cooking juices in slow cooker; season with salt and pepper to taste. Serve sauce with chicken.
Save this recipe for rainy days and you will be very thankful you did. You will even love having this on days that you just feel like having chicken. Plus the beets and brussels gives a healthy touch to it that you will make you less guilty of indulging yourself with this dish.
A very huge thank you goes to countryliving.com for this amazing chicken recipe.