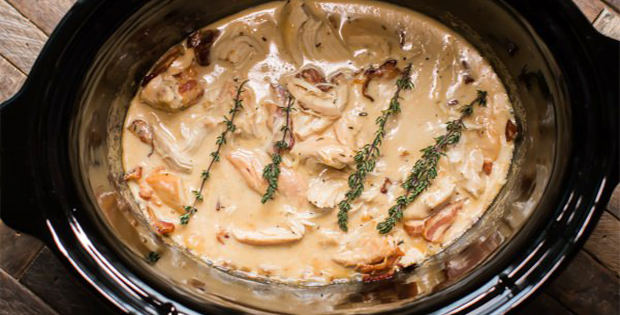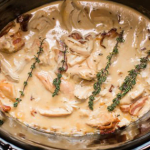 Yield: 4
Prep Time: 15 minutes
Cook Time: 3h 30 min
Print
[VIDEO] Slow Cooker Chicken With Bacon Gravy
Chicken and bacon both in one awesome slow cooked dish.
Any slow cooker fan or meat-eater will not pass on a dish like dish. Who could say no to a dish that has both chicken and bacon in it? I definitely won't!
Cooking the chicken in the slow cooker definitely helps in making the it as tender as possible and it helps the flavors penetrate deep into the chicken meat. Now, what more if your gravy is filled with bacon? You can just imagine how heavenly it will taste.
Check out the recipe below.
Slow Cooker Chicken With Bacon Gravy
Instructions
Add the chicken to the slow cooker. Sprinkle over the pepper, thyme, garlic and bacon.
In a small bowl mix together the gravy mix packet and the 1¼ cup water until smooth. Pour the gravy over the chicken.
Cover and cook on HIGH for 3.5 hours without opening the lid during the cooking time.
When the cooking time is done, add the heavy cream. Shred the chicken with 2 forks and give everything a gentle stir until the gravy and the cream are mixed.
Serve over rice or mashed potatoes.
This will be a sure hit in your family and even when you have parties. It can be very addicting. So better make sure you have this during you pig out days.
Enjoy and happy slow cooking!
Watch the full recipe video below.