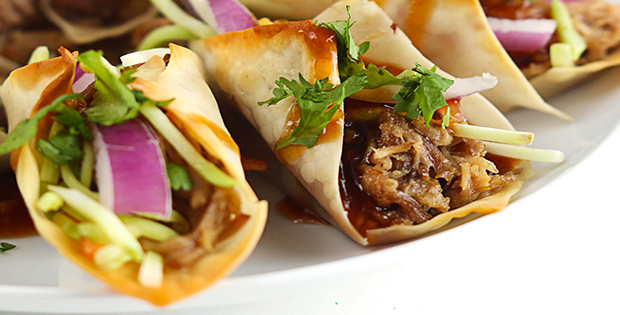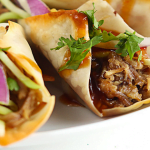 Yield: 4-6
Prep Time: 45 minutes
Cook Time: 8h 00 min
Print
Sweet And Saucy Slow Cooker Hawaiian BBQ Wonton Tacos
A very delicious dish that is great as a main dish or a party appetizer.
If you love anything sweet, saucy, Hawaiian and barbecue flavored dishes then you will probably love this recipe. And if you are in search for a great party appetizer then, you are in luck as this is one dish that 99% of my guests go for.
You night think they are just regular tacos, but sorry to disappoint you as you will be needing wanton wrappers for your tacos. It is made up of an amazing combination of the Hawaiian barbecue flavors. And don't worry too much if you are wondering how you will be making the wanton wrappers crispy. This recipe is a combination of slow cooking and baking.
Check out the recipe below.
Slow Cooker Hawaiian BBQ Wonton Tacos
Instructions
Place pork roast in the slow cooker. Add liquid smoke, and sprinkle pork with salt. Cook on low 8 hours or on high 4 hours. 30 minutes before serving, Remove the pork from the slow cooker and shred with two forks.
Preheat oven to 400. Spray a baking sheet generously with cooking spray. Lay wonton wrappers out on a flat surface. Put 3-4 tablespoons water in a small bowl. Spoon about 2 tablespoons of shredded pork into the center of each wonton. Top with 1-2 tablespoons broccoli slaw and some red onion slices. Wet your finger tips with the water, then pinch two opposite corners of each wonton together so they stick together. Place wonton tacos on prepared baking sheet in a single layer, not touching. Spray tacos generously with cooking spray. Bake 10-15 minutes until wontons get crisp and edges begin to brown.
While the tacos are baking, prepare the sauce. Combine all sauce ingredients in a medium sauce pan and whisk over medium-high and bring to a boil. Reduce to simmer and allow to thicken until tacos are done baking. Top with cilantro. Drizzle sauce onto tacos, or serve as a dipping sauce.
Just follow the instruction carefully and you will get the best output for this recipe. And when you get used to making it, it becomes easier and easier. The slow cooking portion is the easiest part though. Well, try it out and tell me what you think.
A very huge thank you to lecremedelacrumb.com for this amazing appetizer.