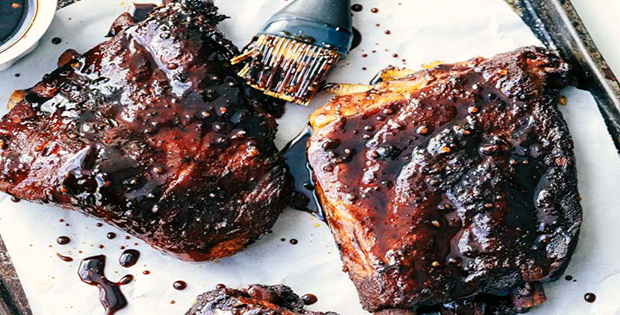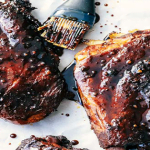 Yield: Family
Prep Time: 10 minutes
Cook Time: 8h 00 min
Print
Slow Cooker Sticky Asian Ribs With Sticky Sauce
The perfect Asian dish you can leave cooking in your slow cooker all day.
If you want something that will literally fall off the bones and melt in your mouth, this tender ribs should be in your to do list of recipes. It is perfectly slow cooked and has that sweet and tangy Asian flavors all available in the sauce.
You will even want to have some sauce set aside even without the ribs as it is very delectable. It may be sticky but you wouldn't mind it at all. And you will end up licking your licking your fingers because of its amazing flavors. Leaving it to slow cook the whole then and then broiling it in the oven to give it that crisp look is just what oyu need to have this perfect rib dish.
Check out the recipe below.
Slow Cooker Sticky Asian Ribs With Sticky Sauce
Instructions
To make the sticky sauce: In a medium sized dish, whisk together the ginger, pepper, and onion powder. Add the garlic and mix again to incorporate. Add sweet chili sauce, soy sauce, vinegar, brown sugar and honey. Whisk until incorporated.
Mix the dry rub ingredients together in a small bowl. Remove the membrane and place the ribs into the slow cooker. You can either curl the ribs along the slow cooker or cut them into sections and place on top of each other. Massage the dry rub into the ribs on both sides. Pour half of the sticky sauce mixture into the slow cooker and reserve the rest later for the sticky sauce. Cook the ribs for 6-8 hours on low heat until the meat is tender.
Remove the ribs from the slow cooker and place them on a foil lines broil pan with the meaty side up. Brush some sauce from the slow cooker on top of the ribs and broil until the edges start to look crisp and broiled. Allow tented with foil to rest while you make the sticky sauce.
To make the sticky sauce: In a medium saucepan over medium high heat, add the reserved sticky sauce to the pan. In a small bowl combine the cornstarch and water plus 1 Tablespoon of the hot liquid. Pour into the sauce pan with the sticky sauce whisk until the mixtures starts to thicken. Remove from heat and brush on top of the ribs. Serve immediately.
Finger-licking good is truly the best way to describe this amazing dish. You will enjoy every single bit of it and will want more for days to come.
A very big thank you  to therecipecritic.com for this amazing recipe.