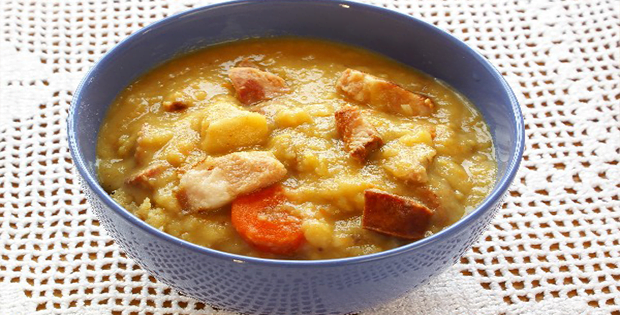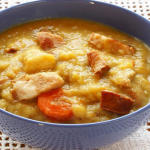 Yield: 4-6
Prep Time: 20 minutes
Cook Time: 5h 00 min
Print
Slow Cooker Split Pea Sausage Soup
A very delectable home-cooked soup dish that everyone will surely enjoy.
How much to you love home-cooked dishes? I personally it especially enjoy it a lot when it is my mom's cooking. I love it more when the whole family is around. Now, whatever dishes I love that my mom cooks, I cook for my hubby and  kids.
This recipe is one of those that you can truly say is a great home-cook option. I love how extremely simple this soup is to make and how healthy the ingredients are. I consider this as a all-in-one dish. I love having this during cold nights wherein the entire family is craving for something warm and comforting.
Check out the recipe below.
'
Slow Cooker Split Pea Sausage Soup
Instructions
In a 5 quart slow cooker, combine the peas, water, sausage, bouillon, carrot, celery, potatoes, garlic powder, oregano, bay leaves, and onion.
Cover, and cook on High for 4 to 5 hours. Remove bay leaves before ladling into bowls.
Try this recipe out and tell me what you think. Comment your thoughts below and do not forget to rate it as well.
Happy slow cooking!
A very huge thank you to allrecipes.com for this amazing dish.