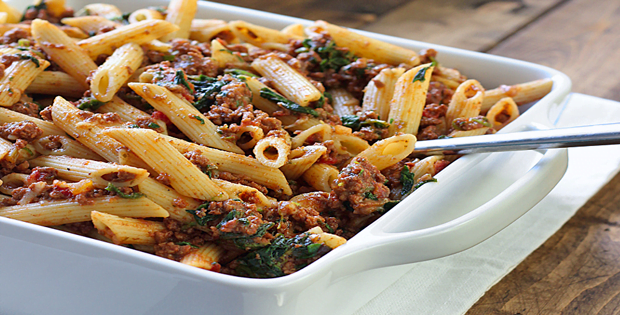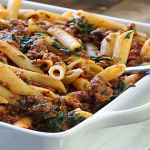 Yield: 8
Prep Time: 15 minutes
Cook Time: 7h 00 min
Print
Slow Cooker Spinach, Beef And Cheese Pasta
A healthy, delicious, slow cooked and cheesy and very easy dinner you will love.
I'm in the mood for some pasta recipe, so are you ready to have another mouthwatering pasta recipe that will blow your mind away? Well this recipe is not only delicious also super healthy as it has one of my favorite veggies in it, Spinach!
I think this is one pasta dish that I can say I don't get tired of. The ingredients all have the perfect amount of flavors that blend so well and make the dish extra special. It doesn't give you the type of taste that you easily get tired of. And it can pass as a complete meal with the pasta, beef, cheese and spinach all rolled into one dish.
Check out the recipe below.
Slow Cooker Spinach, Beef And Cheese Pasta
Instructions
Over medium high heat, brown the beef until cooked. Drain any fat
Remove beef and saute onions and garlic until onions are translucent
Transfer onions and beef to a slow cooker and pour in marinara sauce, tomatoes, basil, oregano, Italian seasoning, red pepper flakes, Worcestershire sauce, crumbled beef bouillon cubes and sugar
Stir to mix well and season with salt and pepper to taste
Cook for 6-8 hours on low
Cook the pasta till al dente, according to package instructions. Drain well and add cooked pasta, Parmesan and Mozzarella to the meat sauce and stir to combine
Cook on high for 30 minutes
Mix in cooked or raw spinach leaves and stir well
Dish and serve hot
This is a very easy slow cooker pasta dish that you will enjoy making. I myself feel like a chef whenever I cook this. And I love cooking especially when I have guests around. Hope you enjoy.
Happy slow cooking!
A very big thank you to thecookingjar.com for this super delicious dish.