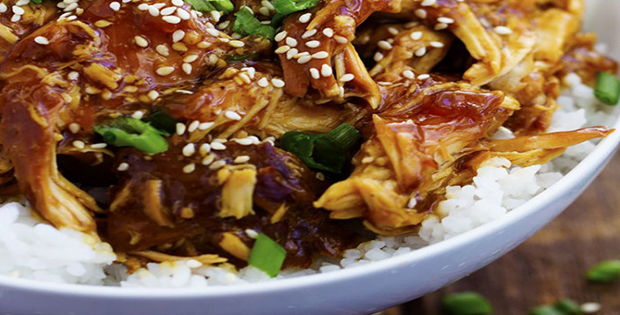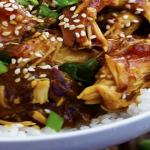 Yield: 4-6
Prep Time: 10 minutes
Cook Time: 4h 00 min
Print
Slow Cooker Honey Teriyaki Chicken
A throw everything in kinda recipe that you will completely enjoy when cooked.
This is the type of dish that is already as yummy as it already is on the image as it is when served. I love taking a few bites right after cooking it. But my kids and hubby enjoy it with rice.
For me, I think the best way to enjoy this dish is having it on bun juts like a Sloppy Joe. Instead of barbecue-flavored pork on the bun, you end up having honey chicken teriyaki. You end up having the best of both worlds. Yummy and addicting is another way to describe this. So you better watch out for the amount you eat.
Check out the recipe below.
Slow Cooker Honey Teriyaki Chicken
Instructions
Spray your slow cooker with cooking spray and place the chicken breasts in the bottom. In a small bowl whisk the soy sauce, honey, rice wine vinegar, onion, garlic, pepper and ginger. Pour over the chicken breasts.
Cook on high for 3-4 hours or low for 4-5 or until chicken is cooked throughout and shreds easily. Once the chicken is cooked, remove with a slotted spoon and shred on a plate.
Pour the sauce into a medium sauce pan. In a small bowl, whisk together the water and cornstarch. Slowly whisk into the sauce on medium high heat. Continue to whisk and let it boil until the honey teriyaki sauce starts to thicken. About 2 minutes.
Add the chicken back to the slow cooker and pour the sauce on top stirring to coat. Serve over rice and garnish if desired.
Enjoy this chicken recipe anytime of the day, any day of the week and even during parties. This dish is actually a big hit when I have parties. You should try it out this Thanksgiving as well.
Happy slow cooking!
A very big thank you to therecipecritic.com for this delicious recipe.