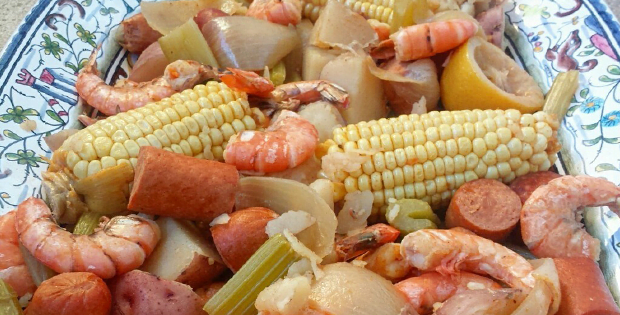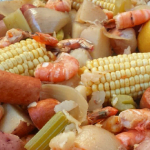 Yield: 8
Prep Time: 5 minutes
Cook Time: 3h 00 min
Print
Slow Cooker Cajun Country Boil
A seafood and veggie treat that you will definitely want to try.
It is always nice to have veggies on the dinning table. It gives the table that healthy feel and at the same time more color that makes meals more appetizing.
I personally love experimenting with dishes that have veggies in it. Whether it be a recipe I find or a recipe I am just formulating, I try my best to incorporate a veggie or two to make it healthier.
I am also a big seafood fanatic and this recipe I am about to share simple makes it a very appetizing dish for me and my family (except for my hubby who is allergic to seafood). But here is the catch it also has sausage. So its basically a mix of a whole lot of favors.
Check out the recipe below.
Slow Cooker Cajun Country Boil
Instructions
Spray slow cooker with cooking spray.
Add water, garlic, and cajun seasoning. Mix well.
Add potatoes, onion, celery, bay leaves & lemon.
Cook HIGH 2 hours.
Add sausage and corn. Cook an additional hour.
Stir in shrimp gently and cook 15-20 minutes or until shrimp are pink.
Remove bay leaves before serving.
This is a perfect dish you have a seafood themed gatherings. It can even pass as comfort food for a long day of work or school. So try it out and tell me what you think.
Happy slow cooking!
A very huge thank you fitslowcookerqueen.com for this delicious dish.