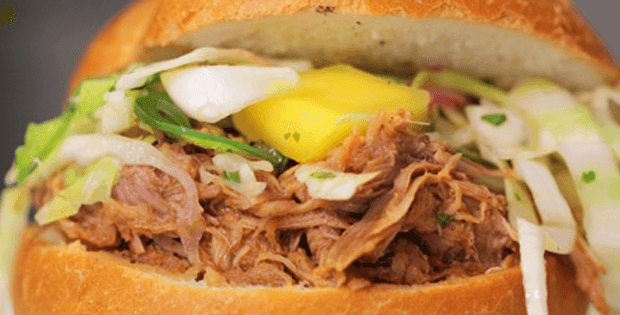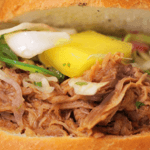 Yield: 20
Prep Time: 30 minutes
Cook Time: 8h 00 min
Print
Slow Cooker Bourbon-Mango Pulled Pork
A pulled-pork recipe that will make you forget the all other recipes you have tried.
Of all the pulled-pork recipes I have ever tried, this is recipe has made the top of the list. I am not saying the others were bad, they were all great. But this one is like OMG!
The bourbon-mango flavor is the magic that makes this recipe an amazing dish you can prepare for any time of the day and any occasion. I recommend serving this in an upcoming party or gathering you have at home. I am sure you will be a star in that parties after your guests try it.
Check out the recipe below.
Ingredients
Instructions
Place the bay leaves in the bottom of a slow cooker and place the pork on top.
Sprinkle pork evenly with salt, garlic powder, cumin, oregano, coriander, and cinnamon.
Pour the water around the sides of the pork, being careful not to rinse off the spice mixture.
Cover and cook on low until the pork shreds easily with a fork, about 8 - 10 hours.
Turn the meat after it has cooked for 4 - 5 hours.
When the pork is tender, remove from slow cooker, and shred with two forks. Use cooking liquid as needed to moisten the meat.
Mango-Jalapeno Slaw
Toss all ingredients gently and let marinate in the fridge for at least 1 hour.
Assembly
Peel and roughly chop the mangoes.
Place a large saucepan over medium-high heat and add the chopped mango.
Using a potato masher, smash the mango into a thick, chunky paste and cook until the mango has reduced and darkened slightly, about 5 minutes.
Add the honey, chipotle powder, and whiskey and stir to blend. Bring to a simmer.
Reduce heat to medium-low, and simmer, stirring frequently for 2 – 3 minutes, allowing the alcohol in the bourbon to cook off.
Stir in the barbeque sauce and remove from the heat.
Gently stir the shredded pork into the mango barbeque sauce, taking care not to break up the tender pork too much. It's desirable for each sandwich to have some chunks of meat that are identifiable as port. Heat until warmed through.
Top the pork with Mango-Jalapeno Slaw.
If you are not a sandwich loving person, you can serve this on top of rice, mashed potato or even pasta. GO crazy and enjoy this amazing dish!
Happy slow cooking!
A very big thank you to foodnetwork.ca for this great dish!