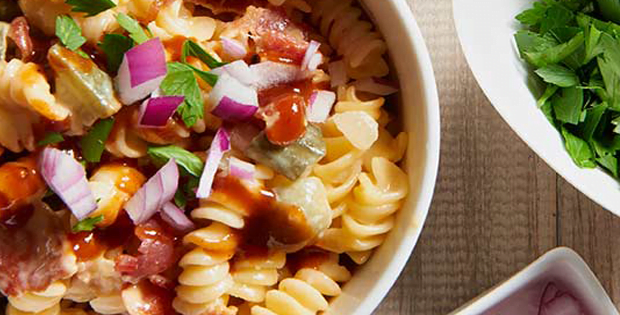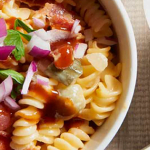 Yield: 18
Prep Time: 20 minutes
Cook Time: 6h 20 min
Print
Slow Cooker Barbecue Chicken Macaroni And Cheese
A childhood favorite with a touch of your favorite barbecue sauce.
December feels like the holidays the entire month for me. And the cold winter night makes me crave for dishes that can warm not only my tummy but also my soul.
This mac and cheese recipe does exactly that. But the part that I love about this recipe aside from it being all gooey and cheesy is the barbecue flavor that is incorporated in it. It just creates the perfect warm and comforting bowl of noodles you will want to go home to.
Check out the recipe below.
Slow Cooker Barbecue Chicken Macaroni And Cheese
Instructions
In a 4-qt. slow cooker combine first five ingredients (through mustard). Stir in half of the bacon.
Cover and cook on low 6 hours or high 3 hours. If using low, turn to high. Stir in pasta.
Cover and cook 10 minutes; stir. Cover and cook 10 minutes more; stir again.
Turn off cooker. If possible, remove crockery liner from cooker.
Top mixture with cheese (do not stir). Cover and let stand 5 minutes. Stir in enough of the milk to reach desired consistency.
Drizzle servings with barbecue sauce and top with red onion and remaining bacon. If desired, sprinkle with parsley.
To Make Ahead:
If your slow cooker has a warm setting, you can hold the macaroni and cheese up to 2 hours. If mixture begins to look dry, stir in up to 1/2 cup additional milk to reach desired consistency.
Does this recipe bring back childhood memories? Do you have any other recipes you would want to share? Comment them below. And don't forget to rate this recipe too.
Happy slow cooking!
A very big thank you to bhg.com for this amazing recipe.