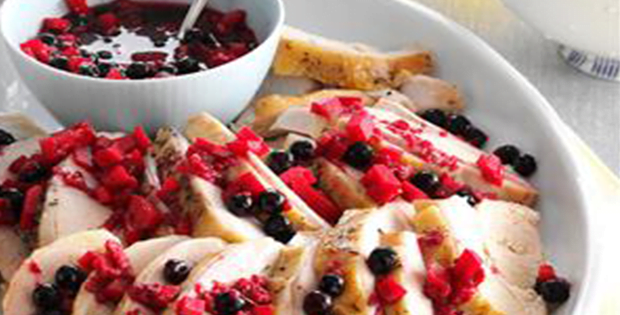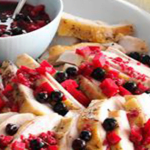 Yield: 12
Prep Time: 55 minutes
Cook Time: 3h 00 min
Print
Slow-cooked Turkey With Berry Compote
The perfect Turkey dish for any occasion, season or holiday.
Turkey is by far one of those meat ingredients that you can say is used for special meals. And Thanksgiving is not only the time we can enjoy this scrumptious ingredient.
This recipe is actually perfect for the summer with all the summer ingredients needed for the compote. It gives your Turkey a different touch from the usual way we always have it. And it is actually very delicious and refreshing.
Check out the recipe below.
Slow-cooked Turkey With Berry Compote
Instructions
Mix salt, garlic powder, thyme and pepper; rub over turkey breasts. Place in a 5- or 6-qt. slow cooker. Pour water around turkey.
Cook, covered, on low 3-4 hours (a thermometer inserted in turkey should read at least 165°).
Remove turkey from slow cooker; tent with foil. Let stand 10 minutes before slicing.
Meanwhile, in a large saucepan, combine compote ingredients.
Bring to a boil. Reduce heat to medium; cook, uncovered, stirring occasionally, until slightly thickened and apples are tender, 15-20 minutes. Serve turkey with compote.
I know it may seem difficult to find the some of the fruits, so you can use frozen fruit when fresh is out of season. So worry not if you think you can't make this dish during other seasons.
Happy slow cooking!
A very big thank you to tasteofhome.com for this amazing recipe.