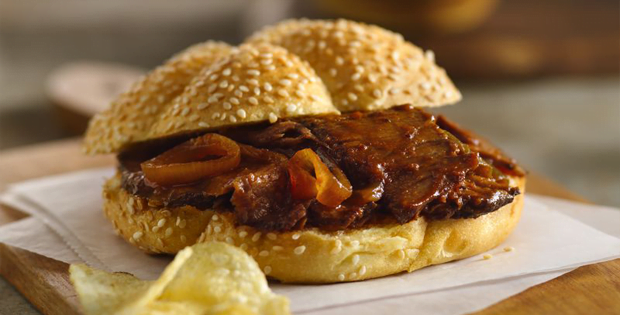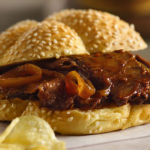 Yield: Family
Prep Time: 10 minutes
Cook Time: 8h 30 min
Print
No Grill Slow Cooker Barbecue Beef Sandwiches
Get the exact flavorful and delicious barbecue beef without grilling.
Grilling can sometimes be a pit of more work than just cooking in the kitchen with your slow cooker. For those who love using their slow cooker, I know you know what I mean. And for those you are fans of grilling but would want to try something new, here is a recipe that will allow you to enjoy a great tasting beef barbecue without having to grill it.
This is a recipe that will make your weekend barbecue afternoon so easy to make and extra flavorful. Compared to grilling, slow cooking the barbecue beef can make the beef super tender and easy to eat. Plus it helps the barbecue flavor penetrate into the beef making it explode with flavors.
Check out the recipe below.
Slow Cooker Barbecue Beef Sandwiches
Instructions
Trim excess fat from beef. Cut beef into 4 pieces. Place beef in 4- to 5-quart slow cooker.
Mix remaining ingredients except buns; pour over beef. Cover and cook on low heat setting 7 to 8 hours or until beef is tender.
Remove beef to cutting board. Cut into thin slices; return to cooker.
Cover and cook on low heat setting 20 to 30 minutes longer or until beef is hot. Fill buns with beef mixture. Note: This recipe was tested in slow cookers with heating elements in the side and bottom of the cooker, not in cookers that stand only on a heated base. For slow cookers with just a heated base, follow the manufacturer's directions for layering ingredients and choosing a temperature.
5

stars - based on

1

review(s)
The best part is that you can actually put it in a sandwich making more than just a regular barbecue-flavored beef dish. So what are you waiting for, get cooking and enjoy!
A very big thank you to bettycrocker.com for this amazing recipe.