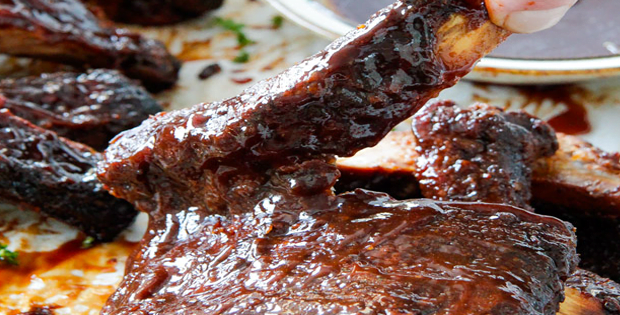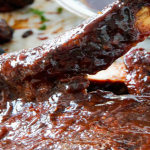 Yield: 8
Prep Time: 15 minutes
Cook Time: 5h 00 min
Print
Easy Fall-Off-The-Bone Slow Cooker Barbecue Ribs
Moist, falling-off-the-bone ribs that your slow cooker can perfectly make for you.
Making ribs is usually a first choice when one has afternoon barbeque or a bunch of friends coming over. And personally there are times that the end result is a fail especially if the ribs end up quite hard or chewy.
Now here is a recipe that you will definitely keep at the top of your list of rib recipes. You will truly enjoy this recipe as your slow cooker can make wonders out of it. You will enjoy not only a flavorful rib dish but one that is super moist and meat that easily falls off the bones.
Check out the recipe below.
Easy Slow Cooker Barbecue Ribs
Instructions
Preheat the oven to 400 degrees F.
Line a baking sheet with sides with parchment paper then set aside.
Cut the baby back ribs into 6 sections then rinse and pat dry.
In a medium bowl, whisk together Spice Rub ingredients. Remove 1 tablespoon Spice Rub to use in your barbecue sauce. Rub all remaining Spice Rub evenly all over the meat then place ribs on prepared baking sheet. Bake ribs for 15 minutes ON EACH SIDE (30 minutes total) to sear meat.
Meanwhile, add all of the Barbecue Sauce ingredients to a medium saucepan and gently simmer for 15 minutes, stirring occasionally. Remove 1 1/2 cups barbecue sauce and refrigerate to use after ribs are cooked.
Spray slow cooker with nonstick cooking spray then add a thin layer of remaining barbecue sauce, followed by ribs. Layer sauce then ribs until complete, tossing to coat as needed to ensure ribs are evenly coated in barbecue sauce.
Cover and cook on HIGH for 4-5 hours or on LOW for 7-9 hours OR cook until ribs are fall apart tender. Rotate ribs once during cooking so they cook evenly. Cooking time may vary between slow cookers.
When ribs are tender, remove from slow cooker and brush with some Reserved Barbecue Sauce if desired or use sauce for dipping.
Notes:
*Liquid smoke can be found next to the barbecue sauce in most grocery stores. It adds a wonderfully smoky flavor.
**You can dip each rib piece in the spice mix, front and back, then rub the mix all over with your hands.
**You should use all of the Spice Rub for 4 pounds of meat for optimal flavor.
All you need is just 15 minutes to prepare the recipe and set it cook for about 5 hours. After which, you will get an amazing rib dish with a mouthwatering restaurant flavor.
Happy slow cooking!
A very big thank you to carlsbadcravings.com for this amazing recipe.