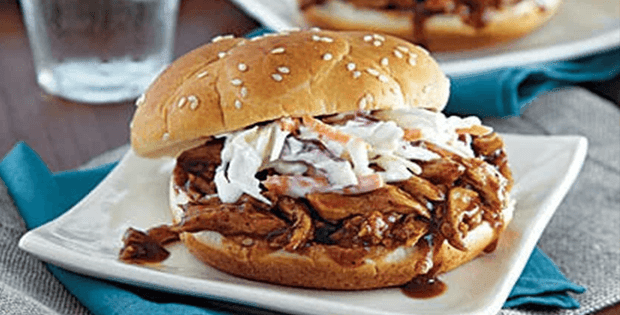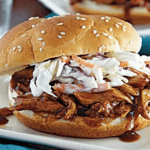 Yield: 15
Prep Time: 15 minutes
Cook Time: 60 minutes
Print
Crock Pot Pork and Slaw Sandwiches
A classic recipe magically enhanced through your slow cooker.
Pulled pork is one of my favorite dishes to make in a slow cooker. The slow cooker makes wonders when it comes to pulled pork.
Just imagine a dish that literally melts in your mouth and gives you a whole lot of amazing flavors. Thanks to the long cooking long cooking hours that helps turn a classic dish into a more savory and unforgettable one.
Check out the recipe below.
Ingredients
Instructions
Place pork and 1 cup water in a 3- to 4-quart electric slow cooker. Cover and cook on LOW for 7 hours or until meat is tender.
Drain pork, discarding cooking liquid. Return pork to slow cooker; shred with 2 forks. Stir in barbecue sauce and next 3 ingredients (through pepper). Cover and cook on LOW for 1 hour.
Combine coleslaw and next 4 ingredients (through salt) in a bowl; toss well. Place about 1/3 cup pork mixture and about 2 tablespoons slaw on bottom half of each bun; cover with bun tops.
A quick note for this recipe, if you are in a rush, you can use packed cabbage-and-carrot coleslaw to lessen preparation time. But if you are more of the traditional all fresh based type, you can always shred your own cabbage and carrots for the coleslaw
Happy slow cooking!
A very huge thank you to myrecipes.com for this great recipe.