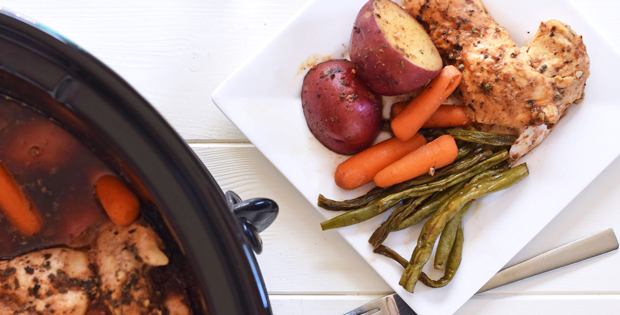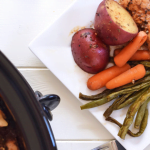 Yield: 8
Prep Time: 15 minutes
Cook Time: 7h 00 min
Print
Crock Pot Honey Garlic Chicken And Veggies
One of the most delicious and easiest slow cooker recipes ever!
My love for chicken recipes has and will never fade. I think my kids and hubby feel the same way about chicken dishes. And this recipe I am about to share is one of the many reasons why we love having slow cooked chicken dishes a lot.
And of course since this is a slow cooker recipe, expect it to be super easy to make and full of amazing flavors. Plus the chicken meat will be extra tender. The honey garlic is the biggest reason this is the bomb.
Check out the recipe below.
Slow Cooker Honey Garlic Chicken And Veggies
Instructions
In a large bowl, combine soy sauce, honey, ketchup, garlic, basil, oregano, red pepper flakes and pepper.
Place chicken thighs, potatoes, carrots, green beans and soy sauce mixture into a 6-qt slow cooker.
Cover and cook on low heat for 7-8 hours or high for 3-4 hours, basting every hour.
OPTIONAL: Preheat oven to broil. Place chicken thighs onto a baking sheet, skin side up, and broil until crisp, about 3-4 minutes. Serve chicken immediately with potatoes, carrots and green beans, garnished with parsley, if desired.
Now if you want to make the flavors more powerful, you can broil the chicken after slow cooking, and then add it right back into the slow cooker until you're ready to serve it or eat it.
Happy slow cooking!
A very big thank you to slowcookertaste.com for this delicious recipe.