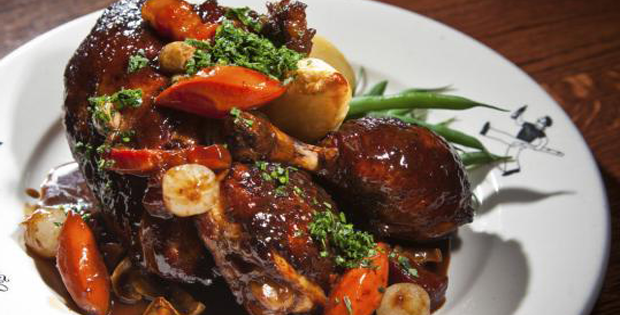 Not only will you devour the chicken but will leave no sauce behind.
Looking for more chicken recipes? How about combining chicken and pork in one dish, specifically bacon? Sound very sinful isn't it? But what the heck this recipe is amazing.
Not to worry if you think that it is all meat in this dish. A few veggies are also combined in it to make it a balanced dish with all the protein and all the additional nutrients you need. But the best part of this dish is how scrumptious it is.
If you are wondering what Coq au vin means, in plain English it is a casserole of chicken pieces cooked in red wine. The wine makes it more divine. To get the best out of this dish, make sure to brown up the bacon, veggies and chicken before throwing them all in the slow cooker. It will give a very explosive flavor with the sauce and the chicken.
You can best serve this with couscous or baguette. Or if you are a rice person, you can serve it with plain brown or white rice. But I personally love it with mashed potato.
Check out the recipe below.
---
SIMPLE SLOW COOKER COQ AU VIN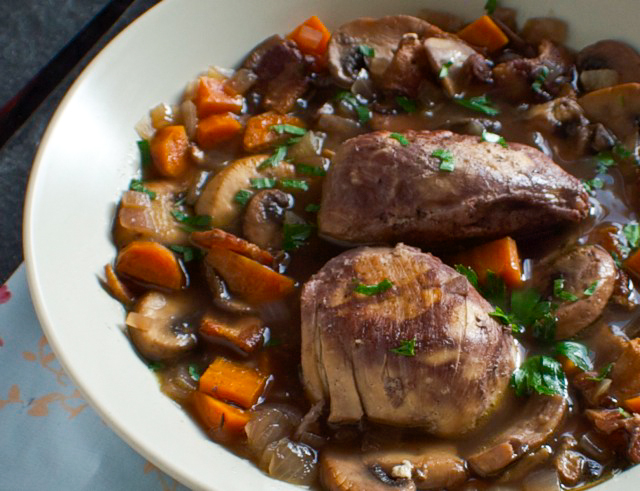 Ingredients: 
8 boneless, skinless chicken thighs
Salt and pepper to taste
3 tablespoons all-purpose flour
4 slices bacon, roughly chopped
3 tablespoons unsalted butter or extra-virgin olive oil, divided
1 (12-ounce) package white or baby bella mushrooms, quartered
2 carrots, chopped
1 medium yellow onion, chopped
2 cloves garlic, chopped
1/2 cup low-sodium chicken broth
1 1/2 cup red wine
2 large sprigs fresh thyme
Click the NEXT button to go to the instructions.