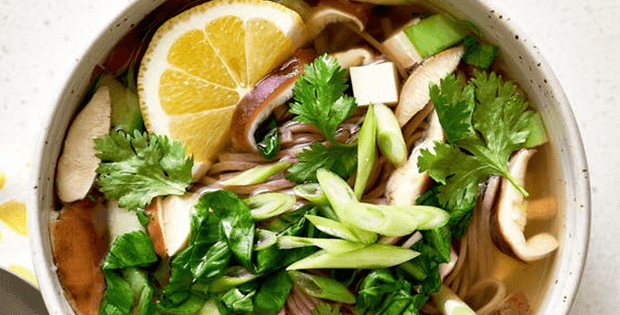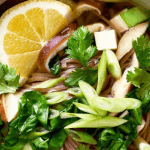 Yield: 4
Prep Time: 15 minutes
Cook Time: 7h 00 min
Print
A Comforting Gingery Tofu Slow Cooker Soup
A healthy homey dish you can enjoy almost every night after work.
This recipe is definitely one of those recipes I love having at the end of a very long tiring day. I love the ginger flavor that soothes my throat and the tofu that makes my tummy full.
This is a great healthy slow cooker option if you are u to something warm, delicious and hearty at the same time. It can also be great for lunch if you are staying home the whole day.
Check out the recipe below.
Ingredients
Instructions
Make the broth: Trim the stems from the mushrooms, then place the stems in a 3 1/2- to 4-quart slow cooker.
Slice the mushroom tops 1/4-inch thick and refrigerate.
Peel the lemon with vegetable peeler. Use a sharp knife to remove any bitter white pith from the yellow peel.
Add the lemon peel to the slow cooker.
Slice the lemon into wedges and refrigerate.
Add the water, carrot, ginger, scallions, salt, and turmeric to the slow cooker and stir to combine.
Cover and cook on the LOW setting for 6 to 7 hours. Use a slotted spoon to remove and discard the cooked vegetables.
Add the reserved shiitake tops and bok choy to the broth.
Cover and cook on LOW until the vegetables are tender, 5 to 7 minutes.
Add the tofu and soba noodles and stir gently to combine.
Cover and cook on LOW until the tofu is warmed and the noodles are tender, about 3 minutes.
Serve with thinly sliced scallions, cilantro, and the reserved lemon wedges.
Add this to your list of great slow cooked soup recipes and I am sure you will not regret trying it out and keeping the recipe. Let me know how it turned it out for you. Leave a comment below and rate the recipe as well.
Happy slow cooking!
A very big thank you to thekitchn.com for this great recipe.