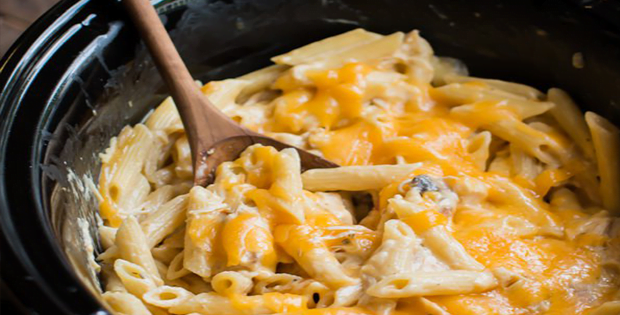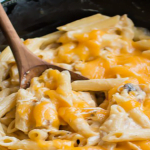 Yield: 8
Prep Time: 10 minutes
Cook Time: 4h 20 min
Print
[VIDEO] The Cheesiest Slow Cooker Cheesy Chicken Penne
A cheese-overload pasta that you will totally enjoy cooking and eating.
How cheesy do you usually want any cheese-based pasta you prepare to be? For me, as cheesy as it gets. Same goes for my kids and hubby. he cheesier it is the better it tastes for us.
So this recipe is certainly one that has reached that cheesiness we are looking for. The fact that we never grow tired of pasta is an addition to why we love this dish. Of course, the over load cheese experience is the ultimate reason. You will have to try it out to find out what I mean
Check out the recipe below.
Slow Cooker Cheesy Chicken Penne
Instructions
Add the cream of chicken soup and chicken broth to the slow cooker, stir until smooth.
Add the tarragon, pepper, mushrooms and onions, stir.
Add the chicken breasts.
Cover the slow cooker and cook on LOW for 6 hours without opening the lid during the cooking time.
After the cooking time is up, start cooking the pasta according to the package directions to Al dente on the stove-top, do not over cook!
Shred the chicken with 2 forks.
Add sour cream and half of the cheese, stir.
Add the cooked and drained pasta and stir again.
Sprinkle over remaining cheese. Cover the slow cooker and cook for an additional 20 minutes on low.
As soon as you get to try this out, don't forget to ping me on the outcome and if you like it. Don't forget to comment your thoughts below and rate the recipe as well.
Happy slow cooking!
Watch the full recipe video here.