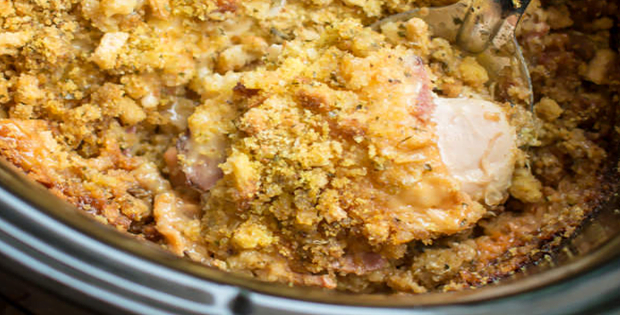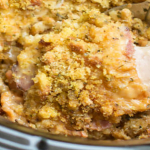 Yield: 6
Prep Time: 15 minutes
Cook Time: 5h 00 min
Print
[VIDEO] Slow Cooker Chicken Cordon Bleu Casserole
A regular casserole turned into a fancy fusioned-dish with the help of your slow cooker.
Have you ever tried fusion dishes? Were you able make one or just tried eating one? Well for me, I have done both. And I would stay it is worth a shot trying if you haven't done so yet.
One dish you can try out with such idea is this recipe I am about to share with you. Here you have chicken cordon bleu and a casserole dish put into one, one regular dish close to home and one fancy dish you get from restaurants.
Check out the recipe below.
Slow Cooker Chicken Cordon Bleu Casserole
Instructions
In a small bowl, whisk together the cream of chicken soup, milk, oregano, pepper and garlic powder until smooth. Set aside.
Add the chicken breasts in an even layer in the slow cooker.
Add the ham over the chicken in an even layer.
Next the swiss cheese in an even layer.
Pour over the soup mixture and use a spatula to spread it out evenly.
Sprinkle over the cornbread stuffing mix.
Pour over the butter evenly over the stuffing.
Cover and cook on LOW for 5 hours without opening the lid during the cooking time.
This dish gives out a nice blend to 2 different dishes put into one. Try it out and tell me what you think. Don't for get to leave your  comment below and also rate the recipe.
Happy slow cooking!
Watch the full recipe video below.