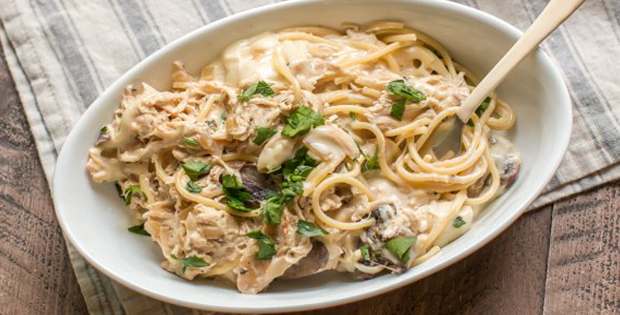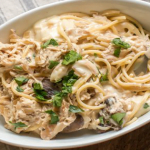 Yield: 6
Prep Time: 20 minutes
Cook Time: 8h 00 min
Print
[VIDEO] Fancy Some Slow Cooker Chicken Tetrazzini?
One of the yummiest ways to prepare chicken breast fillets.
If you love chicken that much, then you definitely have to try this recipe. And if chicken breasts are your weaknesses, then you will really have to try this out.
This is a great recipe for those who love pasta as well. And put pasta and chicken together, what do you get? One kick ass dish! The thing I love about this recipe is how healthy it is and how minimal ingredients are needed and of course how easy it is to prepare it.
Check out the recipe below.
Fancy Some Slow Cooker Chicken Tetrazzini?
Instructions
Add the chicken, sea salt, garlic powder, pepper, tarragon, onions and mushrooms. Pour over the chicken broth. DO NOT ADD THE CREAM CHEESE OR SPAGHETTI YET. Cover and cook on LOW for 8 hours, or HIGH for 4 hours without opening the lid during the cooking time.
Cut the cream cheese into squares and add the slow cooker, cover. In the meantime cook the spaghetti according to the package directions.
After the cream cheese has had some time to melt. Take 2 forks and shred the chicken. Stir the sauce and chicken together. Add the cooked and drained pasta. Stir. Add the mozzarella cheese over the pasta and sauce. Cover for about 10 more minutes or until the cheese has melted.
I could classify this as comfort food at its finest. So don't miss out and try it out now. After which, share with us what you think about it by leaving a comment below and rating the recipe.
Thank you and happy slow cooking!
Watch the full recipe video below.