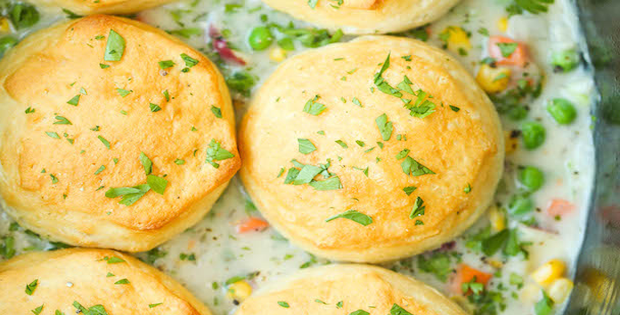 A delicious dish you can completely make from scratch.
Hi again everyone! Ok don't hate me for having another chicken dish. It isn't entirely chicken, but it is just delish!
I'm sure most of you have tried making chicken pot pie in the past. And I'm pretty sure that most of you would use condensed cream of chicken soup for it. Yes, making the dish with condensed cream of chicken soup is actually very easy and quick. But nothing beats making chicken pot pie from scratch.
This special recipe is actually as easy as when you use condensed cream of chicken soup BUT (and that is a big "BUT") the taste is way different. It is way way way tastier and creamier. Plus, since you will be using your crock pot, you can expect it to be super flavorful. So why not try it out?
Check out the recipe below.
---
SLOW COOKER CHICKEN POT PIE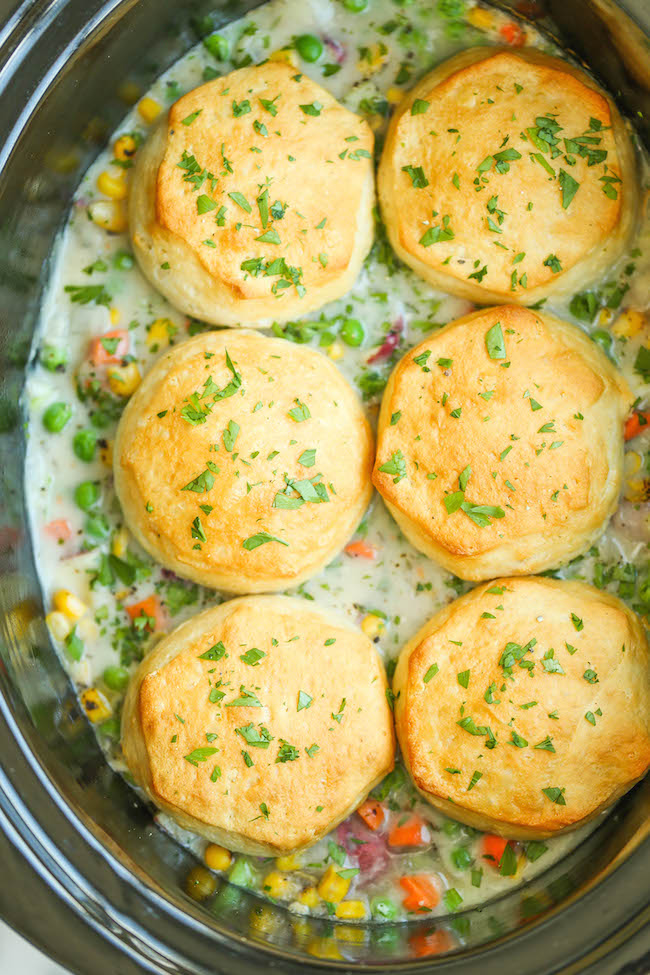 Ingredients:
1 pound boneless, skinless chicken thighs
Kosher salt and freshly ground black pepper, to taste
1 pound red potatoes, diced
1 onion, diced
2 carrots, peeled and diced
2 stalks celery, diced
2 bay leaves
1 cup corn kernels, frozen, canned or roasted
1 cup frozen peas
1 (16-ounce) tube refrigerated buttermilk biscuits
2 tablespoons chopped fresh parsley leaves
FOR THE SAUCE
3 tablespoons unsalted butter
3 cloves garlic, minced
1/2 cup all-purpose flour
2 cups chicken stock
1/2 teaspoon dried thyme
1/4 teaspoon dried basil
1/4 teaspoon dried oregano
Pinch of paprika
Kosher salt and freshly ground black pepper, to taste
Instructions:
To make the sauce, melt butter in a large saucepan. Add garlic and cook, stirring frequently, until fragrant, about 1 minute. Whisk in flour until lightly browned, about 1-2 minutes.
Gradually whisk in chicken stock, thyme, basil, oregano and paprika. Cook, whisking constantly, until the sauce has begun to thicken, about 5 minutes; season with salt and pepper, to taste.
Lightly coat the inside of a 6-qt slow cooker with nonstick spray.
Season chicken thighs with salt and pepper, to taste, and place into the slow cooker. Add potatoes, onion, carrots and celery. Stir in chicken stock mixture and bay leaves. Cover and cook on low heat for 3-4 hours or high for 1-2 hours. Add corn and peas during the last 30 minutes of cooking time.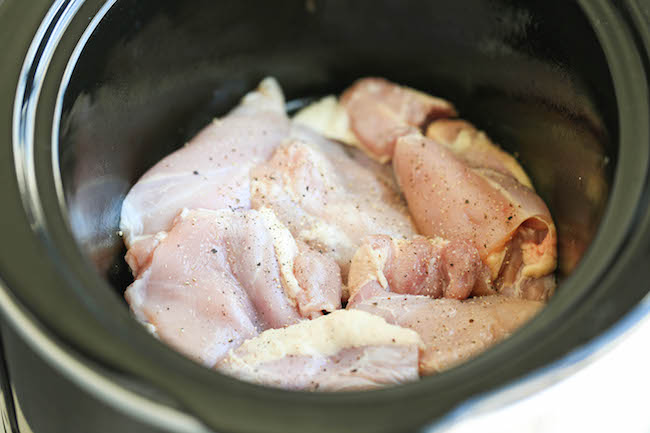 Remove chicken thighs from the slow cooker and shred the chicken before returning to the pot with the juices. Cover and keep warm for an additional 30 minutes.
Prepare biscuits according to package instructions.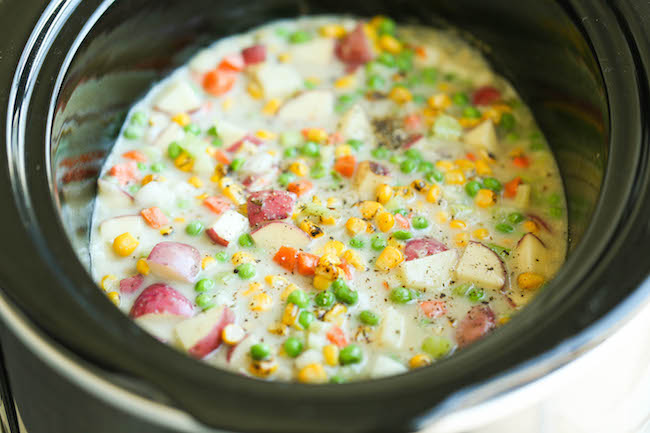 Serve chicken immediately topped with biscuits, garnished with parsley, if desired.
A big thank you to Chungah of damndelicious.net for this amazing recipe!