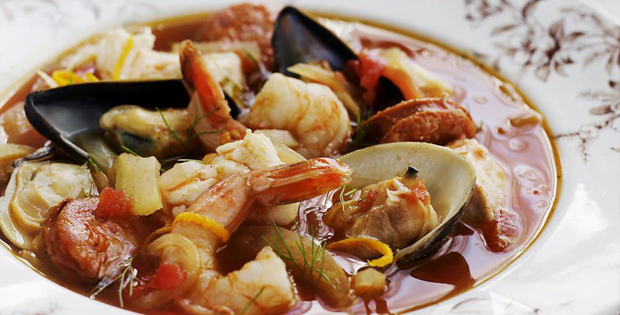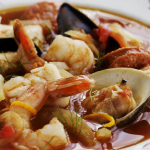 Yield: 6
Prep Time: 20 minutes
Cook Time: 5h 00 min
Print
The Ultimate Seafood Crock Pot Fisherman's Stew (Cioppino)
The perfect seafood dish where you can use up all your favorite shellfish and fish.
If you are a native of San Francisco, then you will definitely be very familiar if not attached to this recipe I am about to share. And if you are not from San Francisco but you are a big seafood lover, then you will definitely have to try this.
This is a delicious fisherman stew that your slow cooker can easily cook for you. Unfortunately my hubby can enjoy it as much as I do because he is allergic to seafood. But that is somewhat a good thing for me, coz that would mean more for me. Although, there are times, that I only use fish in order for my hubby to enjoy the dish as well without having to worry about his allergies.
Check out the recipe below.
Crock Pot Fisherman's Stew (Cioppino)
Instructions
Place all ingredients except seafood in the slow cooker.
Cover and cook 6 to 8 hours on low.
About 30 minutes before serving, add your seafood. Turn the heat up to HIGH and stir occasionally (but gently).
Notes:
Serve with true sourdough bread if you can find it. Something with a really 'sour' taste is perfect for this cioppino. Don't be afraid to dunk your bread in the cioppino as it's considered perfectly good manners in this case.
*You can add water to the recipe to thin out the cioppino somewhat but we prefer it nice and thick.
**Use your imagination and personal preferences as to what seafood to add. Some choose to serve with fresh cracked crab when in season.
It is very simple to make and ultimately delicious with all the flavors that the sea can offer you in a bowl. You will certainly be begging for more after trying this out. And I am sure it will be included in your favorite seafood dishes especially during long cold nights and you wanting to have a warm home cooked meal.
Hope you enjoy it. Don't forget to leave your comments and your rating below for this recipe. Happy slow cooking!
A huge thank you goes to thespruce.com for this recipe.