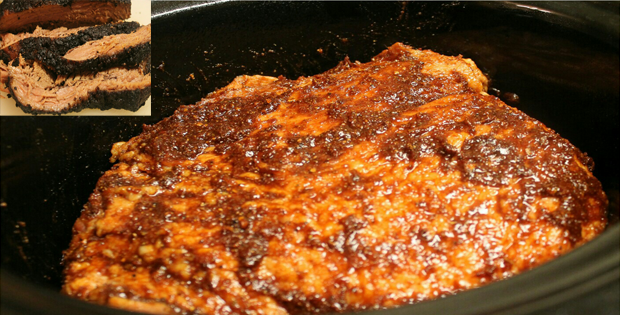 Learn what the secret is to this extra tender and moist beef brisket here.
This is another one of those super easy and direct recipes you will ever do with your slow cooker. Even your partner who doesn't cook at all can pull this off without having to mess anything up. That is how easy it is.
If you have your own barbeque mix or rub, that will work just fine. It will be best with the barbeque mix that you prefer. But just in case you don't have on yet, then the recipe below might be able to help. After mixing and rubbing and cooking it over night through your slow cooker, you will need your oven or broiler to darken the bark and give it that smokey touch.
It practically melts in your mouth and it has a unbelievable flavor that you will definitely fall in love with. So what are you waiting for? Try it out now.
Check out the video below.
---
SLOW COOKER BEEF BRISKET
Ingredients:
7-8 lb beef brisket
homemade barbecue rub
½ cup light brown sugar
1 tbsp salt OR salt free seasoning
2 tbsp garlic powder
2 tbsp onion powder
2 tbsp paprika
1 tsp ground black pepper
1 tsp ground cayenne pepper
1 tbsp parsley flakes
2 tbsp olive oil
2 tbsp apple cider vinegar
1 tbsp liquid smoke
Instructions:
Combine the olive oil, apple cider vinegar, liquid smoke, and bbq rub.
Once everything is mixed, rub it all over a 7-8lb beef brisket.
Next, spray the slow cooker with nonstick spray.
Place the beef brisket in the slow cooker.

Set the slow cooker on low and let cook for 12 hours.
Once done, carefully remove the brisket out of the slow cooker.
Place the brisket in a foil line baked dish.

Turn your oven on broil, then place the brisket in the oven. Let it stay in there long enough until the " bark" ( the rub) darkens.
Once done, remove the brisket out of the oven, and cover it with foil.
Let the brisket rest for 1 hour!
Serve and enjoy!