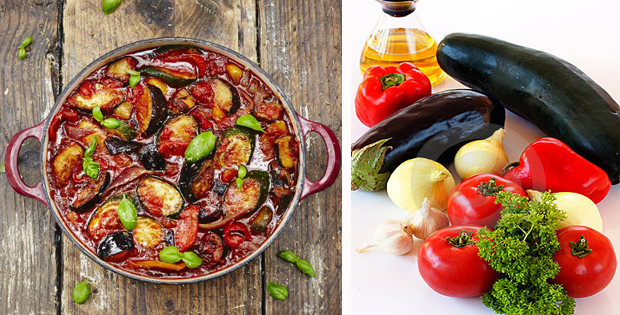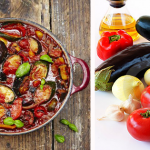 Yield: 6-8
Prep Time: 30 minutes
Cook Time: 60 minutes
Print
The Classic Yet Mouth-Watering Ratatouille
Have something healthy and delish with this classic vegetable stew dish.
As a food lover, there are times wherein you want something that reminds you of the good ol' days or when you were young. Thus, being nostalgic does not only happen for pictures or things we use, but even with what we eat.
Most probably a lot of you have seen the film Ratatouille. Though this animation may be fictional, it has proven the idea of different food or dishes reminding us of the time when we used to be kids.
Check out the recipe below.
Classic Ratatouille
Instructions
Prep your ingredients before you start – peel and cut the onions into wedges, then peel and finely slice the garlic. Trim the aubergines and courgettes, deseed the peppers and chop into 2.5cm chunks. Roughly chop the tomatoes. Pick the basil leaves and set aside, then finely slice the stalks.
Heat 2 tablespoons of oil in a large casserole pan or saucepan over a medium heat. Add the chopped aubergines, courgettes and peppers (you may need to do this in batches) and fry for around 5 minutes, or until golden and softened, but not cooked through. Spoon the veg into a large bowl.
To the pan, add the onion, garlic, basil stalks and thyme leaves with another drizzle of oil, if needed. Fry for 10 to 15 minutes, or until softened and golden. Return the cooked veg to the pan and stir in the fresh and tinned tomatoes, the balsamic and a good pinch of sea salt and freshly ground black pepper.
Mix well, breaking up the tomatoes with the back of a spoon. Cover the pan and simmer over a low heat for 30 to 35 minutes, or until reduced, sticky and sweet. Tear in the basil leaves, finely grate in the lemon zest and adjust the seasoning, if needed. Serve with a hunk of bread or steamed rice.
Even the simplest of dishes can be a burst of flavors when we recall the past and how delicious they could be compared to all the new fusion dishes we have now. One example of this is the classic Ratatouille.
Resource: jamieoliver.com, persimmonandpeach.blogspot.com, 12tomatoes.com, theguardian.com, dreamstime.com