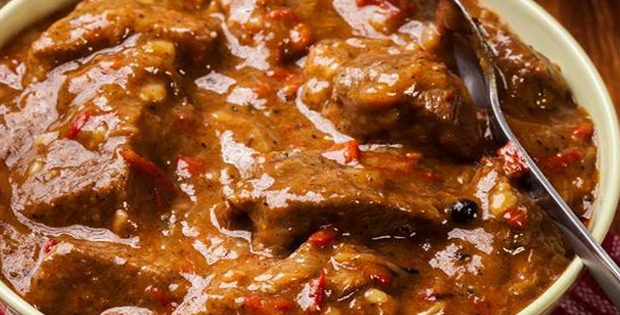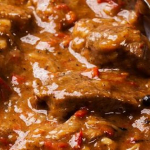 Yield: 4-6
Prep Time: 15 minutes
Cook Time: 8h 00 min
Print
The Chunkiest and Thickest Slow Cooker Beef Stew You'll Ever Have
Home cooked stew full of chunky yet super tender flavorful beef cuts.
Don't you love having stew with big pieces of meat in it? My hubby would usually complain if I prepare stew or soup dishes with very small or tiny cuts of meat. And this recipe is a very big help.
Well I can always choose to add bigger pieces in any recipe but of course, finding a recipe with specific ingredients (especially of how big cuts are) is more appealing and helpful. I always consider the cooking process if the cuts a bigger. Of course, who want something rubbery, right?
Check out the recipe below.
The Chunkiest and Thickest Slow Cooker Beef Stew You'll Ever Have
Instructions
Remove meat from fridge and allow to sit uncovered on countertop for 20 minutes, until it reaches room temperature. Pat cubes dry with clean kitchen towel or paper towel. Sprinkle all the salt and and 1/2 teaspoon pepper on all sides of the beef cubes. Spread flour out on a small plate and dredge the beef cubes in the flour, coating all sides. Shake off excess flour.
Place oil in bottom of a large pot over medium heat. Add some of the beef cubes. Do not crowd the pan, but brown the beef cubes in batches, for about 2 minutes per batch, just cooking the outsides. Beef does not need to be cooked through, just lightly browned.
Add beef and all other ingredients to slow cooker, along with juices from the pot. Cook on low for 6 to 8 hours. Remove bay leaf before serving.
I certainly hope you will enjoy this dish as much as my family does. And I hope you enjoy the very generous portions you will be getting out of it. You may add it to your list of dishes for pig out days.
Happy slow cooking!
A very huge thank you to topslowcookers.com for this amazing recipe.