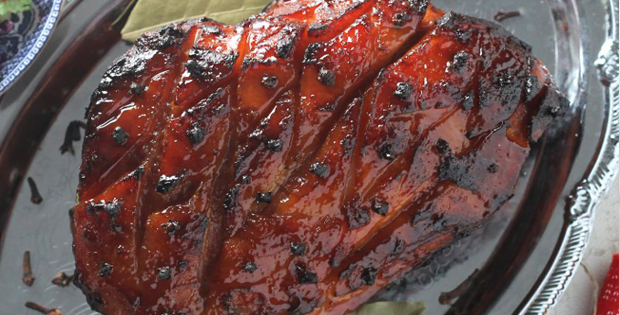 One of the Tastiest slow cooked ham recipes you'll ever try.
Amazingly delicious is by far the best description I could give this slow cooked ham recipe. There are definitely tons of ham recipes you can try out for this coming Christmas. But I'm sure that you will only try one recipe thinking that it isn't that easy making a Christmas ham. Well, today is your lucky day. I'm very happy to share this super easy ham recipe I found while surfing online. And it has a bonus red cabbage salad.
And since I am filling up my menu list for Christmas, ham is not to be forgotten. So, when I found this recipe I felt like a little kid getting her Christmas present earlier than Christmas day. I had to try it out before the holidays of course, so that I did. And my my my! It is just amazing!
The best part about it is that the slow cooker gave it that very tender finish making so easy to carve and serve. The taste is just inexplicably delicious. Words can't explain how good it is, which is why you should try it out and find out if it will be part of your Christmas menu. I surely will be adding it to my menu list, and I am sure you will be adding it too.
Check out the recipe below.
---
SLOW COOKER CHRISTMAS HAM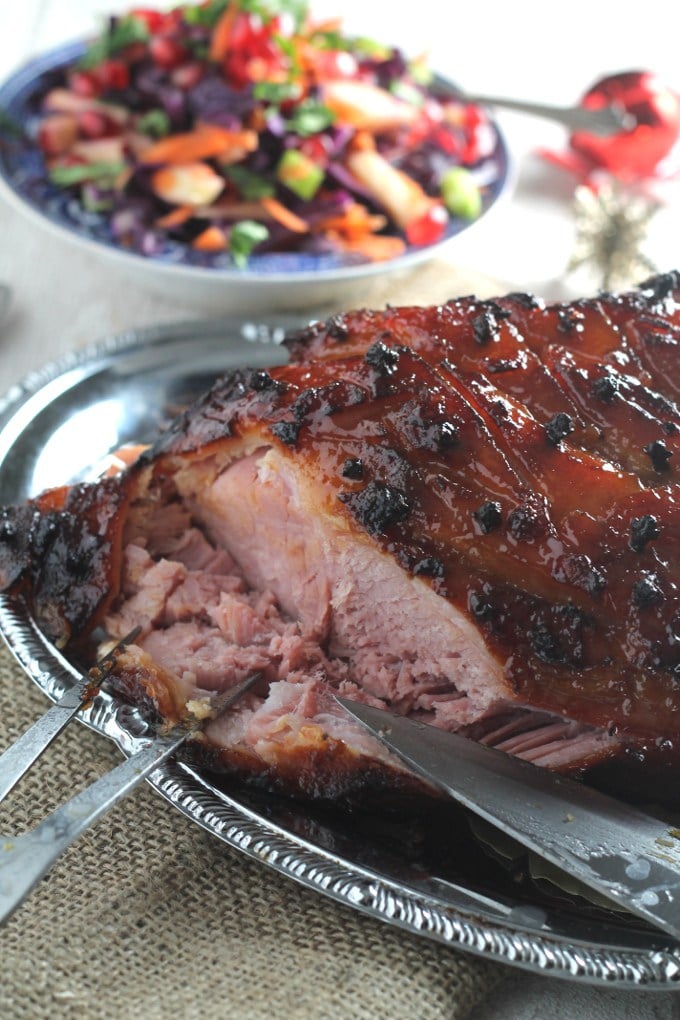 Ingredients:
For the ham
2kg gammon
1 white onion
900ml / 3 cups apple juice
10 black peppercorns
5 whole cloves
2 star anise
2 bay leaves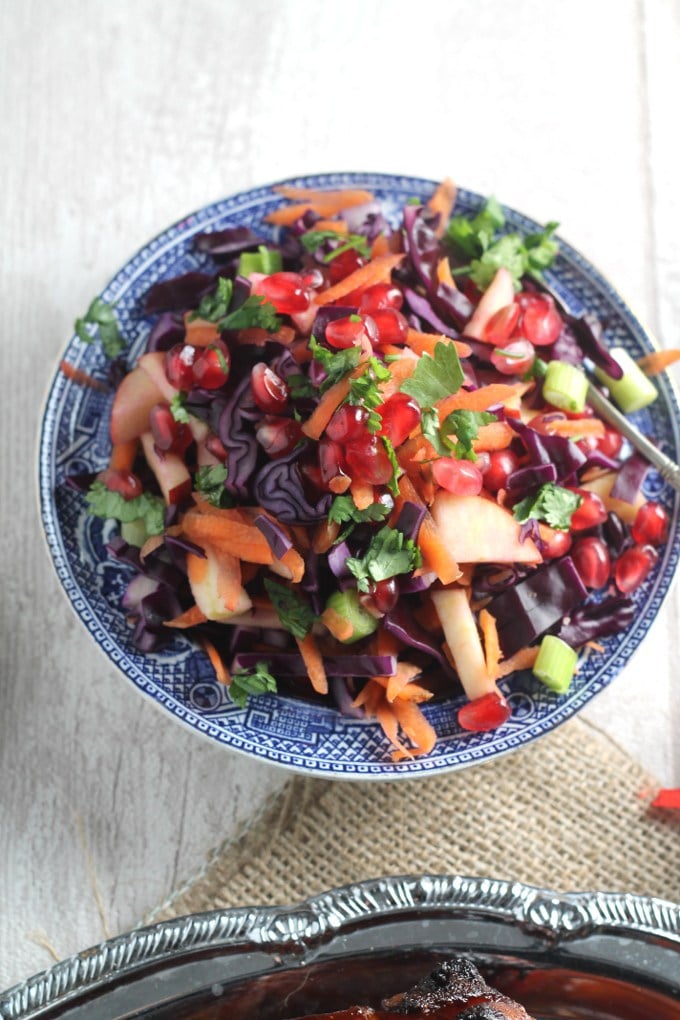 For the salad
1 red cabbage
2 red apples
2 small carrots
3 spring onions
seeds from ½ pomegranate
3 tbsp cider vinegar
6 tbsp extra virgin olive oil
juice of ½ lemon
salt and pepper to taste
parsley to garnish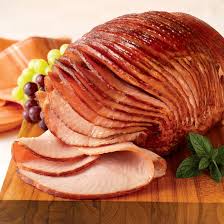 For the ham glaze
handful of whole cloves
4 tbsp honey
1½ tbsp dijon mustard
1 tbsp sugar (I used coconut sugar but brown sugar would work well too)
½ tsp all spice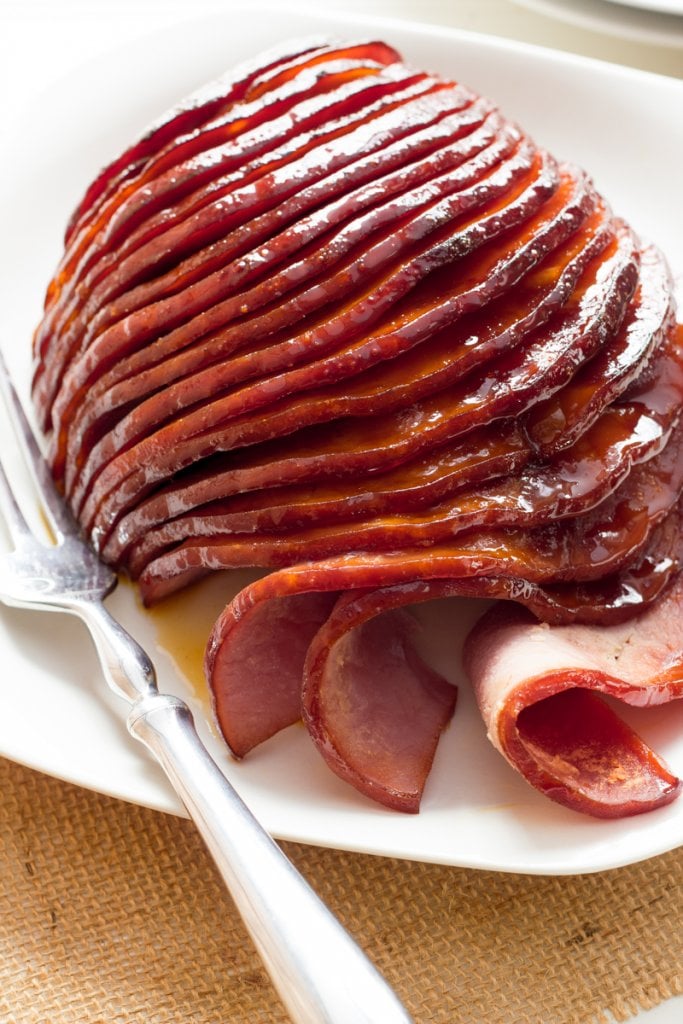 Instructions:
Cut the onion in half and place both pieces on the bottom of the slow cooker. Sit the gammon on top of the onions, fat side up. This will prevent it sticking as it cooks. Pour in the apple juice and add the peppercorns, cloves, star anise and bay leaves. Cook on low for 6-8 hours, depending on how crumbly you want your ham to be.
Prepare the salad by chopping the red cabbage, apples and spring onions into small pieces. Add the grated carrot and pomegranate seeds and mix well. Make the dressing by mixing the cider vinegar, olive oil, lemon juice and salt and pepper together in a lidded jar or bottle and shake well. Add the dressing to the salad just before serving.
When the ham has cooked remove it from the slow cooker and rest it on a plate for a few minutes to allow the liquid to drain away. Preheat the oven to 220c and double line a baking tin with foil (don't skip this as the honey glaze will burn into your baking tray and it's a nightmare to get off!)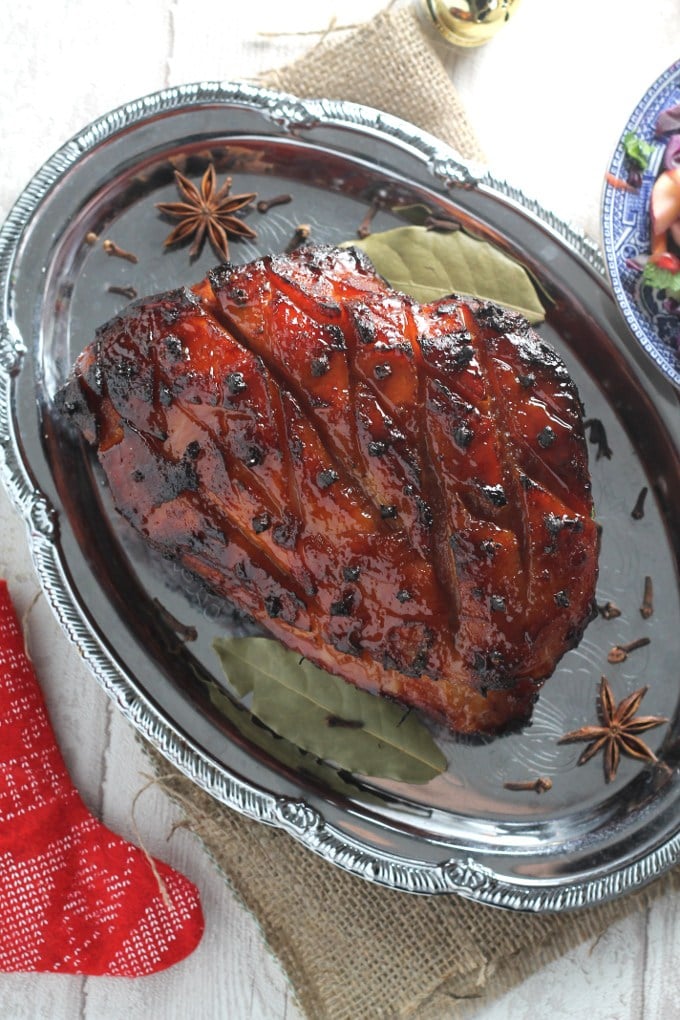 Transfer the ham to the lined tray. Remove the skin with a sharp knife leaving a layer of fat on top. Score the fat and stud it with whole cloves.
Make the glaze by mixing all the ingredients together in a bowl. Pour half the glaze onto the fatty part of the ham, spreading it around until the top is fully covered.
Bake in the oven for 20-25 minutes, adding the remaining glaze half way through.
Allow the ham to rest for 10-15 minutes before carving.
A very big thank you to myfussyeater.com for this awesome recipe.
Credits to the following for the amazing images: