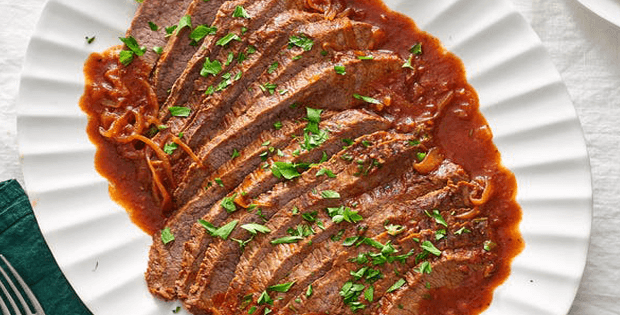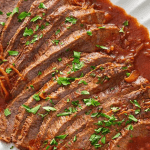 Yield: 6-8
Prep Time: 15 minutes
Cook Time: 8h 00 min
Print
Sweet And Tangy Slow Cooker Brisket
Brisket in the slow cooker with the perfect amount of spices and tenderness.
Here is a recipe that you should try if you are craving for brisket. It is also the perfect dish to prepare if you are aiming to make your kitchen or even the entire house smell incredible.
What I love most about this dish aside from the tender brisket that literally falls apart is the tender onions as well and the amazing blend of spices that makes this dish a worthy family favorite. And of course, you can always prepare this and leave it to cook while doing other errands.
Check out the recipe below.
Ingredients
Instructions
Heat the oil in a large frying pan over medium-high heat until shimmering. Add the onions and cook, stirring occasionally, until softened and beginning to brown and char in some spots, about 8 minutes.
Add the tomato paste, garlic, paprika, oregano, onion powder, garlic powder, salt, smoked paprika, cumin, cinnamon, and tomato paste, and cook until fragrant, about 2 minutes more. Deglaze the pan with 1 cup of the broth, using a wooden spoon to scrape the browned bits from the bottom of the pan. Add the vinegar and sugar and stir to combine and dissolve the sugar. Bring to a boil. Reduce the heat to low and simmer for 10 minutes. Transfer to a 6-quart or larger slow cooker.
Pat the brisket dry with paper towels. Generously season both sides with salt and pepper. Place the brisket in the slow cooker fat-side down.
Cover and cook on the LOW setting for 6 to 8 hours. The brisket is done when it easily shreds when pulled, but it shouldn't be falling apart.
Transfer the brisket to a clean cutting board. If desired, use a spoon to scrape the fat cap off. Now you can slice and serve the brisket immediately with the sauce.
For a perfect meal, serve this with rice, couscous, or a thick chunk of bread on the side. The extra sauce will give this dish an amazing ending to your meal.
Happy slow cooking!
A very big thank you to thekitchn.com for this awesome recipe.