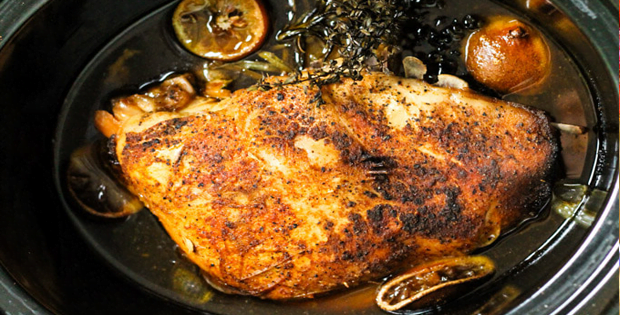 The best alternative if you do not want to roast the whole turkey.
How prepared are you for this year's Thanksgiving? And oh, it's just a few days from now. What is your menu plan for your holiday dinner? Are you still having Turkey as part of your menu? If the answer is yes and if you are looking for a different way of cooking your turkey, then this is a great recipe to try.
You wouldn't need the entire turkey for this though as a whole turkey might not be able to fit in your slow cooker. This is super delicious and very simple to make. It won't give you much stress as what one usually has when the holidays come closer or during the holiday itself. And this is especially true when you are the kitchen preparing your holiday menu.
This recipe takes only 5 minutes to actually prepare. That is how easy and simple it is. So just imagine the stress-free holiday you will have if you decide to have this for Thanksgiving.
Check out the recipe below.
---
SLOW COOKER TURKEY BREAST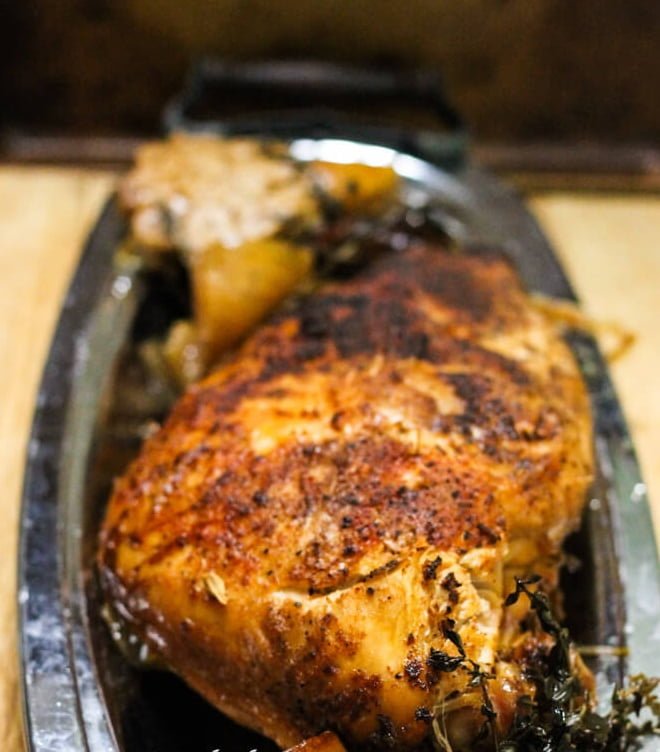 Ingredients:
For the Turkey
1 turkey breast on the bone (about 3 lbs)
1 head of garlic
1 medium sized yellow onion
5 strings of fresh thyme
3 sprigs of fresh rosemary
½ tablespoon of salt
Freshly ground pepper
1 teaspoon dry garlic powder
1 teaspoon onion powder
1 teaspoon sweet paprika
1 tablespoon of extra virgin olive oil
For the gravy
⅓ to a ½ cup of milk
1-2 tablespoons of corn starch
Juice from half a lemon (optional)
Salt and pepper to taste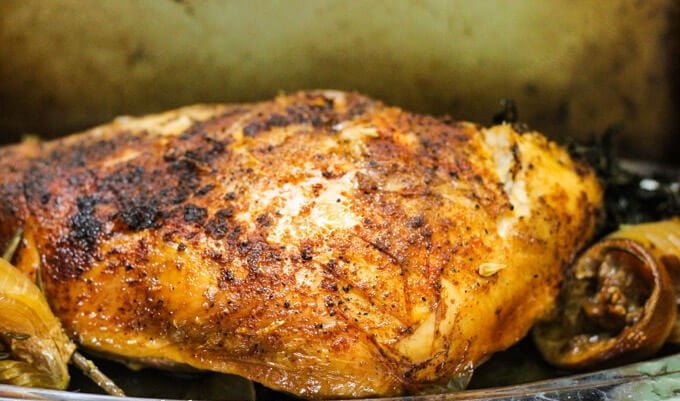 Instructions:
For the Turkey
Cut your garlic head in a half
Cut onion in 4 large pieces
Add all of the above to the bottom of the slow cooker
Place the turkey breast on top of the garlic, onion and lemon
Sprinkle the top with the spices: salt, pepper, garlic powder, onion powder and paprika
Spoon over Extra Virgin Olive oil on top of the turkey and half the lemon.
Bundle up the herbs and add to the slow cooker
Cover and cook on low for 7-8 hours
For the Gravy
Once the turkey is done, you can take it out along with all the veggies and herbs.
The sauce will contain fat on the top – remove it so the gravy is not too heavy
Pour the sauce in a small saucepan
Bring it to boil
In a cup mix together milk with corn starch
Add to sauce and cook until thickened up
Check for seasoning, add salt and pepper if needed
Now you can also add lemon juice for some extra flavor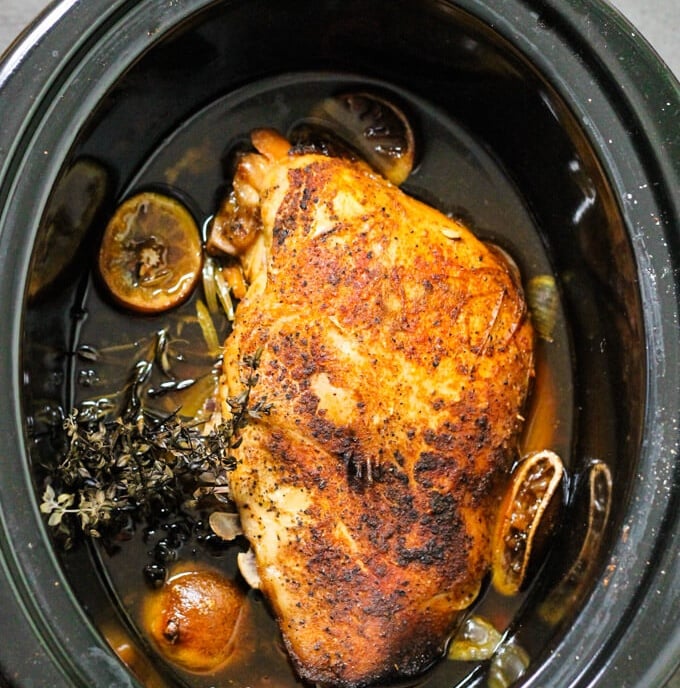 NOTES
1. Depending on how much sauce you have, you may need to add more milk/cornstarch mixture. Just add ⅓ milk with 1 tablespoon first and see how it thickens up. If needed, repeat the process.
2. Originally I posted this recipe with the lemons added to the crockpot. It happens that the sauce can get a little bitter from the lemons. I guess it depends on the lemons. I suggest to skip the lemon and adjust tanginess of the gravy at the end with some lemon juice.
A very big thank you to innocentdelight.com for this amazing Thanksgiving slow cooker recipe.