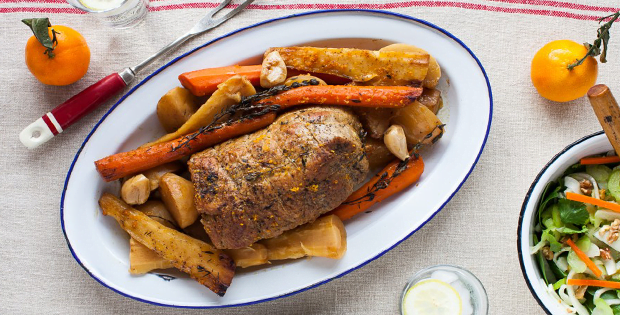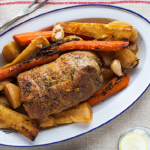 Yield: 6-8
Prep Time: 20 minutes
Cook Time: 5h 00 min
Print
Sunday Slow Cooked Veal Pot Roast With Parsnips, Carrots And Orange
An assortment of the best root vegetables paired with a delectable veal roast.
What is your favorite weekend dish? Well, here is one of my family's favorite weekend dishes. The veal itself is such a delight and root vegetables give the veal a healthy pair to eat that will allow kids to enjoy a complete healthy dish.
This is one recipe that give up a really great combination of the carrots, parsnips, turnips and all the root vegetables. It gives out the amazing flavors of all those veggies plus the orange zest and the veal itself. It complements the veal without overwhelming it at all.
Check out the recipe below.
Slow Cooked Veal Pot Roast With Parsnips, Carrots And Orange
Instructions
Heat a large cast iron pan over high heat and add the olive oil. Season the roast all over with salt and pepper.
Place the roast in the hot pan and sear it on all sides. This will take a good ten minutes; don't rush it.
Transfer the roast to a slow cooker.
In the same hot cast iron pan, add in carrots and parsnips. Cook for 5 minutes or until they are slightly caramelized. Add the vegetables to the slow cooker. Repeat with turnips and garlic. You may have to add a little more oil to the pan.
Tuck all the vegetables around the roast in the slow cooker. Zest the orange over the top and add the thyme. Cut orange in half and juice it into the slow cooker. Add the stock.
Cover the slow cooker and cook roast for 5 hours on low.
If you are not much of a veal eater, you can always use chicken instead of veal for this recipe. Or you can also opt for a really good pork portion as substitute as well. Be adventurous and try out other options that will fit your taste.
Happy slow cooking!
A very huge thank you to simplebites.net for this delicious recipe.