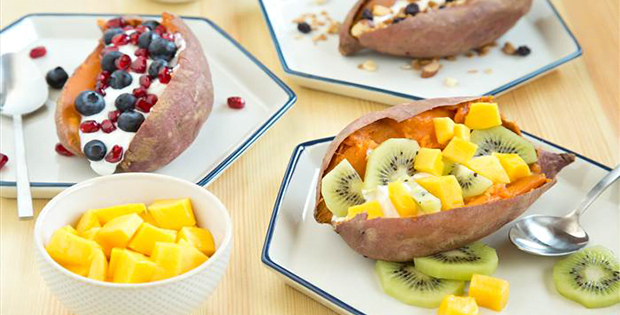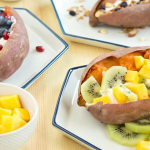 Yield: 4
Prep Time: 10 minutes
Cook Time: 8h 00 min
Print
Stress-Free Slow-Cooker Breakfast Sweet Potatoes
The best way to use your slow cooker while you have a goodnight sleep.
One of the perks of having a slow cooker is enjoying an amazing stress-free warm  meal when you wake up. This is simply because you can make your slow cooker do its magic even when you are sound asleep overnight.
And these sweet potatoes is one great example of a breakfast dish you can prepare a night before. The slow cooker can truly make a great meal out of something very simple. You will have a soft and tender sweet potato meal that you would not even think you can even do while sleep. Just like magic.
Check out the recipe below.
Slow-Cooker Breakfast Sweet Potatoes
Ingredients
Instructions
Scrub and rinse the sweet potatoes, but do not dry them.
Place the damp sweet potatoes in the bottom of the slow cooker so they fit comfortably in one layer.
Bake the sweet potatoes on low for 8 hours.
Carefully remove the cooked sweet potatoes from the slow cooker and split each potato lengthwise.
Top each potato with 1/4 cup Greek yogurt and add toppings as desired:
Superfood Sweet Potatoes: Divide 1 cup blueberries and 1/2 cup pomegranate seeds between the potatoes. Sprinkle 1/4 teaspoon chia seeds over each potato, if desired. Drizzle 1 teaspoon maple syrup or honey over the potato, if desired.
Tropical Sweet Potatoes: Dice 1 ripe mango and 2 large kiwis, and divide between the potatoes. Drizzle 1 teaspoon honey over the potato, if desired.
Nutty Granola Sweet Potatoes: Divide 1/2 cup of your favorite granola, 1/4 cup dried blueberries or cranberries, and 1/4 cup coarsely chopped almonds and/or hazelnuts between the potatoes. Drizzle 1 teaspoon maple syrup or honey over the potato, if desired.
You can also  try one of the three variations given above or create  your own signature combination to give it a personal touch. Plus you can even make a whole bunch and pack it for days you crave for sweet potatoes and some yogurt toppings.
Hope you enjoy this simple and quick recipe. Happy slow cooking!
A very big thank you to today.com for this great recipe.