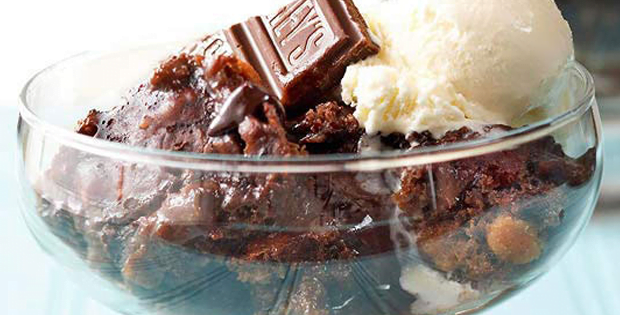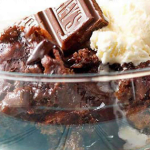 Yield: 8
Prep Time: 20 minutes
Cook Time: 3h 00 min
Print
Slow Cooker Triple Chocolate-Peanut Butter Pudding Cake
A luscious dessert made in your slow cooker that will definitely satisfy anyone.
If you are a sucker for desserts then this slow cooker recipe is one for the books for you. Any one with a sweet tooth will most certainly enjoy this as much as I do.
This decadent slow cooker dessert is famous for its very chocolatey flavor. The number of chocolate ingredients is what makes it all that magical. And you will know why this stands out from the other chocolate desserts out there once you get a taste of it.
Check out the recipe below.
Slow Cooker Triple Chocolate-Peanut Butter Pudding Cake
Instructions
Lightly coat the inside of a 3 1/2- or 4-quart slow cooker with cooking spray or line the slow cooker with a disposable liner; set aside.
In a medium bowl, stir together flour, 1/3 cup sugar, 2 tablespoons cocoa powder, and baking powder.
Add chocolate milk, oil, and vanilla; stir just until moistened. Stir in peanut butter pieces, chocolate pieces, and peanuts. Spread batter evenly in the prepared cooker.
In another medium bowl, combine 3/4 cup sugar and 2 tablespoons cocoa powder. Gradually stir in boiling water.
Carefully pour cocoa mixture over batter in cooker.
Cover and cook on high-heat setting for 2 to 2 1/2 hours or until a toothpick inserted into center of cake comes out clean.
Remove liner from cooker, if possible, or turn off cooker.
Let stand, uncovered, for 30 to 40 minutes to cool slightly. To serve, spoon pudding cake into dessert dishes.
And if the pudding alone is not enough, you can serve this with ice cream and more chocolate shavings or bar pieces. This will top it all of and give one perfect dessert for any occasion.
Happy slow cooking!
A very big thank you to bhg.com for this delicious recipe.