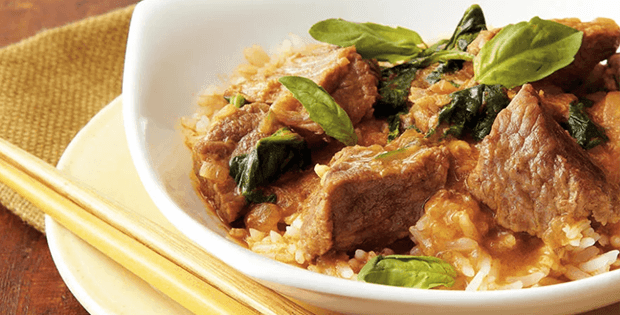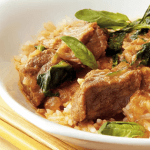 Yield: 8
Prep Time: 20 minutes
Cook Time: 6h 00 min
Print
Slow Cooker Thai Red Curry Beef
A great slow cooker version of an very flavorful Thai beef dish.
I adore Asian dishes, they are ultimately one of those that you can experience an explosion of amazing flavors. And to name a few, we just can't get enough, of Thai, Vietnamese, Chinese, Indian, Japanese, Korean and even Filipino dishes.
Now beef is one of my many challenges coz of how rubbery it becomes if not cooked properly, and thankfully the slow cooker makes this problem go away. So, if you are up for an amazing beef Asian dish, then you should definitely try this recipe.
Check out the recipe below.
Ingredients
Instructions
Heat a large nonstick skillet over medium-high heat.
Add beef; cook 5 minutes or until browned, stirring occasionally. Drain.
Place beef in a 4-quart electric slow cooker; sprinkle with salt.
Return pan to medium-high heat.
Add onion and garlic; saute 5 minutes or until tender.
Spoon onion mixture over beef. Combine beef broth and next 6 ingredients (through jalapeño); pour over beef.
Cover and cook on LOW for 6 hours.
Stir in spinach.
Cover and cook on LOW for 15 minutes or just until spinach wilts. Serve beef mixture over rice; sprinkle with basil leaves.
Also, if you are a fan of spicy dishes, feel free to add more jalapeños to the recipe. But if you or any of your guests or relatives are not really fond of spices dishes, then just lessen the jalapeños or even take it out.
Happy slow cooking!
A very big thank you to myrecipes.com for this luscious recipe.