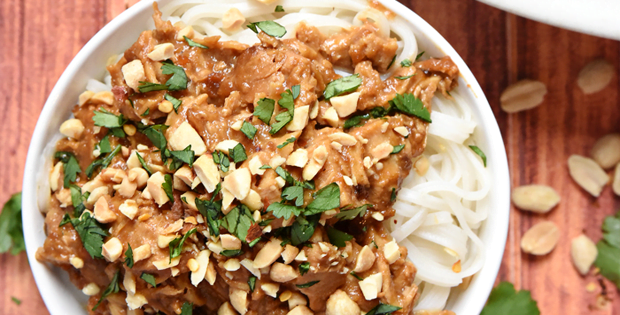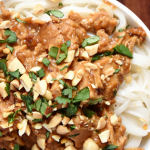 Yield: 4-6
Prep Time: 15 minutes
Cook Time: 8h 00 min
Print
Slow Cooker Thai Chicken With Peanut Sauce
The yummiest tender Thai chicken stewed in a flavor-infused peanut sauce.
Going Asian once in a while or rather once a week gives our weekly menu plan something very interesting to look forward to. This particular dish one of those Asian dish that my kids really love. Of course, it is because it has chicken and peanut sauce in it.
Not only my kids are crazy about this, my hubby is all about this dish as well. Actually, much more than my kids are.
Just imagine chicken slow cooked in a sauce of luscious milk, peanut butter, honey, soy sauce, lime juice and garlic. Sound so tempting right?
Check out the recipe below.
Slow Cooker Chicken With Thai Peanut Sauce
Instructions
Arrange chicken breasts in the bottom of a large slow cooker. In a medium bowl, stir together coconut milk, peanut butter, garlic, honey, soy sauce, lime juice, rice wine vinegar, and red pepper flakes; mix until (mostly) smooth) Pour over chicken.
Cover and cook on LOW for 6 to 8 hours, or HIGH for 3 to 4 hours (or until chicken is tender but not overcooked, depending on the strength of your slow cooker). Reduce slow cooker temperature to WARM. Remove chicken from slow cooker, cut into chunks, and shred. Return shredded chicken to slow cooker to allow it to absorb sauce and heat through.
Serve chicken and sauce over cooked white or brown rice, cooked rice noodles, or stuffed inside large lettuce leaves, as wraps. Garnish with chopped peanuts, fresh cilantro, and additional red pepper flakes, if desired.
Notes:
If you don't have rice wine vinegar, you may use apple cider vinegar instead.
You will definitely enjoy this dish. And I'd love to hear from you after you have tried it.  Be as adventurous as you want with this dish. You can serve it with rice, noodles or a filling for lettuce wraps.
Don't forget to rate this recipe and comment below. Happy slow cooking!
A very big thank you to fivehearthome.com for this amazing recipe.