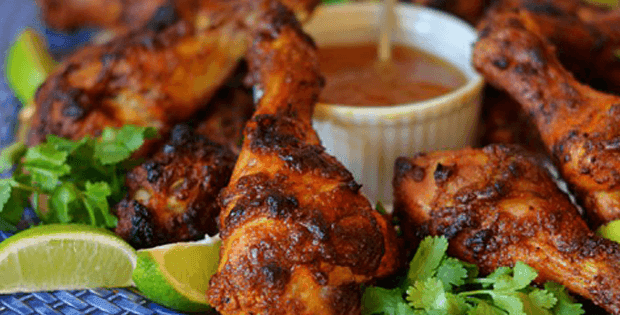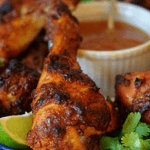 Yield: 4-6
Prep Time: 15 minutes
Cook Time: 4h 00 min
Print
Slow Cooker Tandori Chicken Legs
This will be your new all-time favorite dish after trying it out.
Since my family loves chicken and must have at least one chicken meal a week, finding chicken recipes is a must for me. Although there are some simple recipes like fried chicken that we don't really get tire of, having other interesting recipes is always a plus.
Now this chicken wing recipe is one for the books. And I am thankful to the author of this recipe for sharing it online. The flavors in this chicken recipe is just amazing and worth every single dime and time you spend on it.
Check out the recipe below.
Instructions
In a food processor, combine the ginger, garlic, and lemon and pulse until a smooth paste forms, 1 minute.
Add the tandori paste, yogurt, spice, and salt.
Combine the chicken with the tandoori marinade thoroughly in a ceramic bowl or ziploc bag. Cover and leave to marinate 4 hours to overnight in the fridge. Turn to coat.
Remove the chicken from the marinade; It will be coated.
Spray the crock with nonstick vegetable cooking spray and arrange the onion slices in the bottom with the chicken legs in a single layer on top. Pour any of the leftover tandori paste marinade into the crock over the chicken
Cover and cook on LOW for 6 1/2 to 8 hours, until the drumsticks tender and cooked through, or on HIGH for 4 hours. Serve immediately with basmati rice, lemon or lime wedges, coriander leaves, a "raita" and naan.
This is one great example of scrumptious tandori paste coating for chicken that will not disappoint you. Try it out and tell me if it hits the spot.
Happy slow cooking!
A very huge thank you to notyourmotherscookbook.com for this luscious recipe.