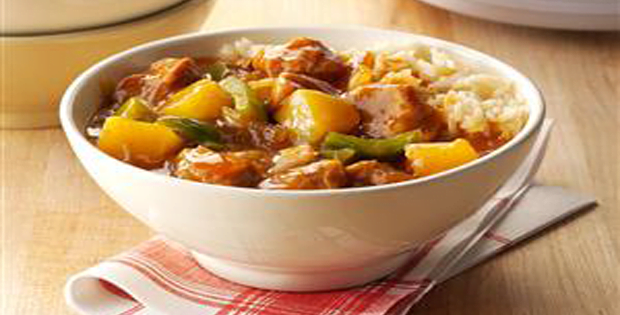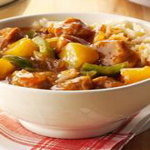 Yield: 4
Prep Time: 15 minutes
Cook Time: 6h 15 min
Print
Slow Cooker Sweet And Sour Pork
A very tempting and super delicious take out dish made in your very kitchen.
Chinese food is usually the go to dish when you think of take out after a long day of work or if you have no time to cook anymore. But what if you can just prepare it in your very home? No need for take out and the best part is that you can adjust the flavors to your liking.
That is what I usually do now especially with my slow cooker around. As tempting as take out sounds like, a good home cooked meal is still the best option for me and my family.
Check out the recipe below.
Slow Cooker Sweet-and-Sour Pork
Instructions
In a 3- or 4-qt. slow cooker, mix the first 10 ingredients.
Stir in pork, onion, green pepper and pineapple.
Cook, covered, on low 6-8 hours or until pork is tender.
In a small bowl, mix cornstarch and broth until smooth; gradually stir into cooking juices.
Cook, covered, on low 15-20 minutes longer or until sauce is thickened. Serve with rice.
To make ahead:
In a large resealable plastic freezer bag, combine the first 10 ingredients. Add pork, onion, green pepper and pineapple; seal bag, turn to coat, then freeze. To use, place filled freezer bag in refrigerator 48 hours or until contents are completely thawed. Cook as directed.
Now will you still go for take out if you can make your very own using you slow cooker? I personally will stick to home cooked dishes. Try it out and tell me what you think.
Happy slow cooking!
A very big thank you to tasteofhome.com for this amazing recipe.