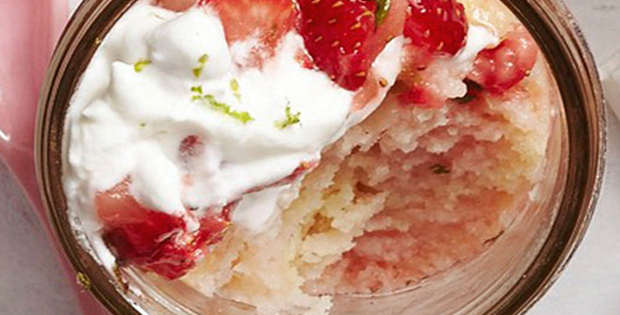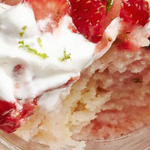 Yield: 6
Prep Time: 30 minutes
Cook Time: 2h 00 min
Print
Slow Cooker Strawberry Mojito Shortcakes
Mojitos in a dessert that you will not regret trying.
Ok, it may seem that I am sharing a number of alcohol-based dishes. Well, not because I wanna get you all intoxicated but it is just to add a little twist to the usual dishes we serve.
Now this slow cooker shortcakes are a must try. They taste as great as they look, especially when you put them in a mason jar for serving. You can definitely get a taste of the mojito which perfectly compliments the shortcake recipe.
Check out the recipe below.
Slow Cooker Strawberry Mojito Shortcakes
Instructions
Lightly coat six half-pint straight-sided canning jars with cooking spray. In a bowl combine the next five ingredients (through baking soda).
Using a pastry blender, cut in butter until mixture resembles coarse crumbs; make a well in the center.
In a bowl combine buttermilk and egg. Add the buttermilk mixture to flour mixture. Stir just until combined.
Spoon dough into prepared jars, filing about one-third full. Cover jars tightly with greased foil. Place jars into a 6-quart oval slow cooker. Pour 1 cup water around jars.
Cover and cook on high for 1 1/2 to 2 hours or until a toothpick inserted in centers of shortcakes comes out clean. Remove from slow cooker; cool, uncovered, on a wire rack.
Meanwhile, in a bowl combine strawberries, 3 tablespoons sugar, and the rum. Crush some of the strawberries. Stir in mint and lime zest. Cover and chill up to 2 hours. In a bowl beat whipping cream and 1 tablespoon of sugar until soft peaks form.
Top shortcakes with strawberry mixture and sweetened whipped cream. Sprinkle with additional lime zest and/or small mint sprigs.
*Notes: To make sour milk, pour 1 tablespoon vinegar or lemon juice into a 1-cup glass measure. Add milk to make 1 cup. Let stand 5 minutes.
I don't really remember how many alcohol-based recipes I have shared already but there will be more coming. So watch out for it and I hope you enjoy them as much as I do.
Happy slow cooking!
A very big thank you to bhg.com for this recipe.