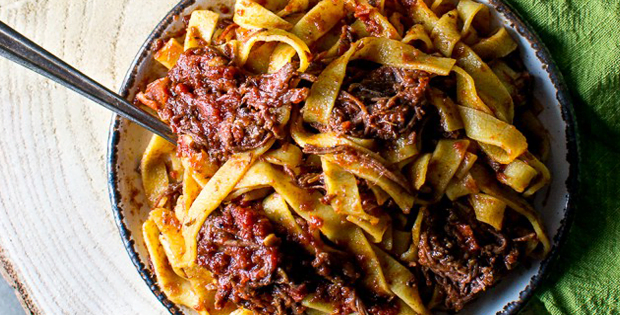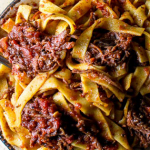 Yield: 4
Prep Time: 10 minutes
Cook Time: 8h 00 min
Print
Slow Cooker Short Rib Pasta That You'll Deeply Fall In Love With
The perfect dish you can prepare in bulk and left over can be frozen for the next day.
I have never really tried a recipe like this before but I surely am glad I did try it. It is so easy to prepare and is incredibly delicious. I bet you will love this recipe as much as I ended up loving it.
You will want to add this to your pasta recipe list after trying it. And like any other pasta dish, it is perfect if you have a busy schedule and you want to have something quite special. It even tastes and looks like pasta you get from a fancy restaurant. So you can serve this on a busy night or even for a dinner with family and friends.
Check out the recipe below.
Slow Cooker Short Rib Pasta
Instructions
Trim fat off of short ribs.
Add olive oil to a large pot and place over medium-high heat. Once pan is hot, sear short ribs on both sides until nicely browned. Once browned, turn heat to low and add garlic. Stir for about 1 minute until softened.
While short ribs are browning add crushed tomatoes, salt, pepper, sugar and basil to your slow cooker and stir. Add seared short ribs and garlic to the tomatoes and cook on low for 6-8 hours. Short ribs should be falling apart or literally falling off the bone when done. Remove short ribs and shred into chunks, removing any fat. Because short ribs have quite a bit of marbling (fat running through the meat), the sauce will be oily. Use a spoon to spoon off the fat from the top of the sauce as best you can. You don't have to do this, but I preferred a less oily sauce. Add meat back into the sauce and stir. Cook pasta according to package directions. Add pasta to the sauce and garnish will parmesan cheese.
I hope you enjoy this recipe. Make sure to share this with your family and friends and get them addicted to it too. Also, don't forget to rate it below. And leave your comments as well. Happy slow cooking!
A very huge thank you to stuckonsweet.com for this delicious recipe.