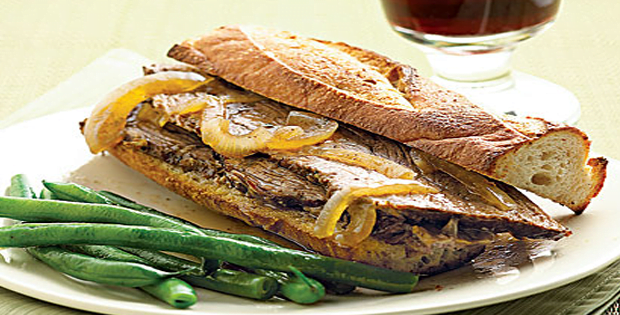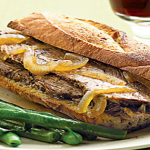 Yield: 6
Prep Time: 30 minutes
Cook Time: 5h 00 min
Print
Slow Cooker Roast Beef French Dip Sandwiches
A slow cooker sandwich best for packed lunches if are always on the go.
The rump roast of this dish is a divine intervention that melts in your mouth bursting with the most amazing flavors. The first time I saw the recipe, I thought that it will just end up as any other sandwiches: same method of cooking, same ingredients, same flavors. But I was completely wrong. It is much much more than I have expected.
I love how the slow cooked rump roast blends so well with the incredibly juicy onion sauce. You can't really judge a book by its cover just because it has the same name as everything else.
Check out the recipe below.
Slow Cooker Roast Beef French Dip Sandwiches
Instructions
Season roast with salt and pepper. Heat oil in a large skillet or pot over medium-high heat. When pan is hot, add seasoned rump roast and cook, turning, until browned on all sides, about 1 1/2 minutes per side. Transfer roast to slow cooker.
Pour red wine into skillet and, using a wooden spoon, scrape bottom of pan to incorporate all browned bits of meat. Cook for 2 minutes to reduce liquid. Pour liquid over meat.
Add onion, broth and onion soup mix to pot; stir to mix. Cover and cook on low heat for 5 hours. Remove roast and slice.
Arrange meat on a platter and pour onion sauce over meat. Cut 4-inch lengths from bread, split lengthwise and toast for sandwiches. Have everyone layer meat on bread, pouring sauce on top to moisten.
You will know exactly what I mean once you try this recipe. And I assure you that you will love it. And when you do, don't forget to leave your comment below and rate the recipe.
Happy slow cooking!
A very big thank you to myrecipes.com for this delicious recipe.