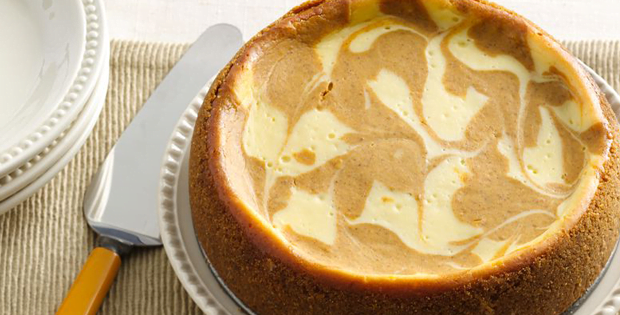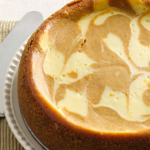 Yield: 8
Prep Time: 20 minutes
Cook Time: 10h 00 min
Print
Slow Cooker Pumpkin Swirl Cheesecake
You will love your slow cooker more after trying this cheesecake recipe.
Did you know that cooking cheesecake in a slow cooker gives it a totally better outcome that the traditional method? It produces a creamier result that gives the cheesecake more volume.
And if you want to brag to other people how great of a cook or pastry cook you are then I believe this will do the trick. This is the kind of dessert you will definitely be proud of even crave for once in a while.
Check out the recipe below.
Slow Cooker Pumpkin Swirl Cheesecake
Instructions
Lightly spray 8-inch spring form pan with cooking spray. In small bowl, mix Crust ingredients. Press mixture in bottom and 1 inch up side of pan.
In large bowl, beat cream cheese with electric mixer on medium speed just until smooth and creamy; do not overbeat.
On low speed, gradually beat in 3/4 cup sugar, then beat in eggs, 1 at a time, just until blended.
Spoon three-fourths of the cream cheese mixture into pan; spread evenly.
Beat pumpkin and pumpkin pie spice into remaining cream cheese mixture with whisk until smooth. Spoon over mixture in pan.
Use knife to swirl cream cheese mixtures.
Place small ovenproof bowl in bottom of 6- or 7-quart round slow cooker (about 9 inches in diameter).
Place ovenproof plate on top of bowl. Set cheesecake on plate. Place triple layer of paper towels on top of slow cooker.
Cover with lid to seal. Cook on High heat setting 3 hours without removing lid. Turn slow cooker off and let stand, untouched, 1 hour.
Remove cover, and transfer cheesecake to refrigerator. Refrigerate at least 6 hours before serving, but no longer than 24 hours.
Since this is on a main ingredient basis recipe, you can be adventurous and change the main ingredient into something else. Hope you enjoy it as much as I do.
Happy slow cooking!
A very big thank you to bettycrocker.com for this amazing recipe.