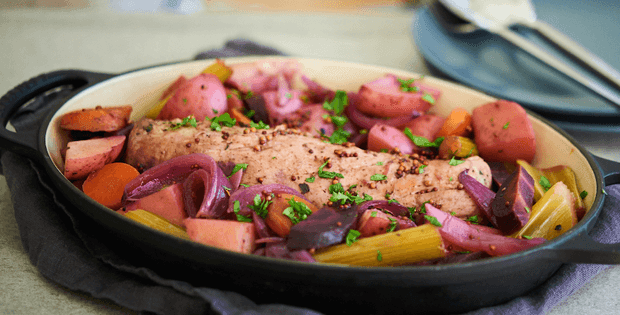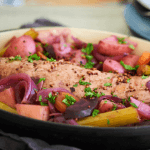 Yield: 4
Prep Time: 10 minutes
Cook Time: 4h 00 min
Print
Slow Cooker Pork Tenderloin With Winter Veggies
A perfect slow cooker dish addition to your weeknights.
How do you usually lay out your menu plan on weeknights? Mine is a whole variety of choices and trying not to repeat the same recipe twice every week. This of course is a bit impossible if the hubby and kids request for certain dishes on certain nights, repeatedly.
Now this recipe is one for you to try out for a weeknight. It has the perfect combination of protein from the meat and healthier minerals from the veggies. For me this is a great option for a family who wants a balanced meal.
Check out the recipe below.
Ingredients
Instructions
Add all ingredients except parsley to a large slow cooker, positioning the pork tenderloin in the centre and surrounding it with the vegetables.
Replace lid and cook on high for 2 hours or on low for 4 hours.
Once the cook time is up, transfer pork to a cutting board and slice into medallions.
Dish up the vegetables along with those delicious slow cooker juices onto plates or into shallow bowls, top with pork tenderloin medallions, then garnish with parsley.
Serve warm.
Notes:
To enhance the caramelized flavor in this stew, you can sear the pork in a skillet before it goes in the slow cooker. To do so, add olive oil to a skillet set over medium-high heat, then brown each side of the pork tenderloin until desired color; continue with the remainder of the recipe.
Match this with mashed potatoes or rice and your dish is complete as a full meal. Let me know what you think and don't forget to rate this recipe too.
Happy slow cooking!
A very huge thank you to foodnetwork.ca for this delicious recipe.