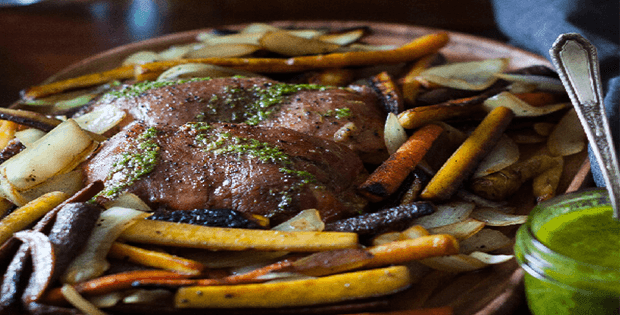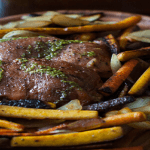 Yield: 12
Prep Time: 30 minutes
Cook Time: 6h 00 min
Print
Slow Cooker Pork Roast With Sugar Free Chimichurri Sauce
Enjoy a great meal with this Pork Roast topped with the most savory Chimichurri sauce.
This is one recipe you should definitely try serving for special occasions. I love having this dish because of how flavorful it is and how tender the pork is.
Of course, this is all because of the slow cooking process which I love so much. My slow cooker never fails especially with recipe like this. And this the reason I am very confident preparing meals for special occasions or parties.
Check out the recipe below.
Ingredients
Instructions
Pork Roast
Place the pork roast in a crock pot. Drizzle 2 tablespoons of the olive oil over the roast and sprinkle it with salt and pepper.
Cover with the lid and cook it on high for 6 hours (or low for 12 hours).
After the roast has been in the crock pot for 4 hours (8 hours on low), add the onions and carrots to the crock pot, placing around the roast (Alternatively, you can pan fry the onions and carrots with the remaining 2 tablespoons of olive oil and saute them on medium/high heat until they begin to caramelize. Add them to the crock pot after this step).
Cook the roast, carrots, and onions for 2 more hours (4 hours on low), or until the pork is pulls apart easily and carrots are soft.
Chimichurri
Combine all the ingredients in a blender or food processor.
Blend until the basil pieces are small and even.
Place the roast, carrots, and onions on a serving platter and drizzle with chimichurri sauce. Serve with extra sauce.
Your family, friends and even friends of friends will surely enjoy this dish if ever you plan to serve it in a lunch or dinner gathering. So get ready for comments and questions like "This is amazing! What is in this?"
Happy slow cooking!
A very huge thank you to mynaturalfamily.com for this recipe.