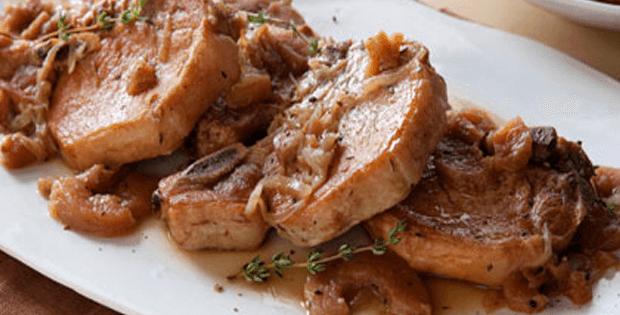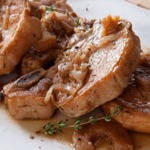 Yield: 4
Prep Time: 20 minutes
Cook Time: 6h 20 min
Print
Slow Cooker Pepper Pork Chops
Mouthwatering and very satisfying is all that you have to know about this dish.
This is one of the many pork dishes that I can never get tired of. I think I could say the same in behalf of my family and friends. I love serving this during dinner as it is one of my comfort food. I also enjoy serving this during get-togethers as everyone who takes a bit of it praises it a lot.
The apples give the pork an amazing flavor that makes this dish worth sharing. And together with the other spices, you can truly say this dish should be served in any occasion.
Check out the recipe below.
Ingredients
Instructions
Combine the vegetable broth, 1/2 cup kosher salt, brown sugar and peppercorns in a medium saucepan and set over medium-high heat. Cook just until the salt and sugar dissolve, then remove from the heat and add the ice. Place the pork chops into a 2-gallon zip-top bag along with the mixture and seal. Place in a plastic container and refrigerate overnight.
Remove the chops from the brine, rinse, and pat dry. Season on both sides with the kosher salt and set aside.
Place the apples in the slow cooker.
Heat 1 1/2 tablespoons of the olive oil in a 12-inch stainless steel saute pan over medium-high heat. Saute the pork chops on both sides until golden brown, approximately 5 to 6 minutes per side. Once browned, place the pork chops into the slow cooker atop the apples.
Add the remaining 1/2 tablespoon of olive oil to the pan followed by the onions and saute until they begin to brown, 3 to 4 minutes. Add the chicken broth to the pan to deglaze. Add the black pepper and thyme and stir to combine.
Transfer this to the slow cooker, set to high, cover and cook for 1 1/2 hours. Decrease the heat to low and continue cooking for another 4 hours and 30 minutes or until the pork is tender and falling away from the bone.
Tell me what you think and if this dish has passed your taste buds too. Leave your comment below and rate the recipe as well.
Happy slow cooking!
A huge thank you to foodnetwork.ca for this amazing recipe.