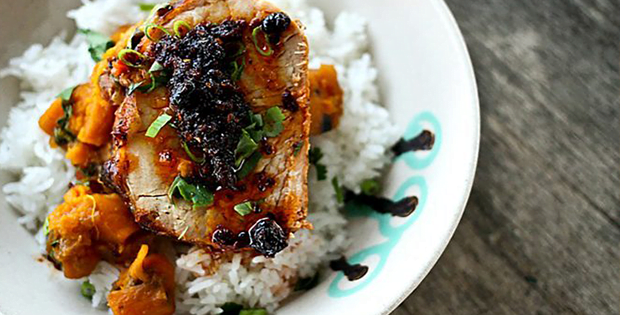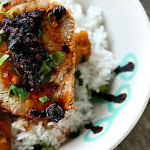 Yield: 4-6
Prep Time: 15 minutes
Cook Time: 7h 00 min
Print
Slow Cooker Peach Salsa Pork Roast With Sweet Potatoes
Fork-tender and moist pork roast pair with luscious sweet potato and peaches.
This may be by far one of the best dishes I have ever tried with peaches. I have never thought something can be as scrumptious as this dish with peaches, sweet potato and pork roast all together.
The peach salsa is the magical part of this dish. And the pork roast, oh I just don't know where to start. It's tender. It's moist. It's garlicky. It's perfect! And I am not exaggerating. If you love pork roast and peaches and sweet potatoes, then this is the dish for you.
Check out the recipe below.
Slow Cooker Peach Salsa Pork Roast with Sweet Potatoes
Instructions
Scatter the cubed sweet potatoes in the bottom of a slow-cooker crock. Put the lid in place and set the slow-cooker to HIGH.
Sprinkle the pork roast generously with kosher salt and cracked black pepper on all sides.
Place a heavy-bottomed stainless steel or cast-iron skillet over high heat. Swirl the oil over the bottom of the pan.
Carefully place the pork roast in the hot pan and do not move it until it releases easily from the pan and is deep golden brown on the side that just cooked. Rotate the roast to an un-browned area and repeat. Do this until you have browned the entire surface of the pork roast. Use tongs to set the pork roast on top of the cubed sweet potatoes.
Pour the peach salsa over the top, put the lid in place, and cook on HIGH for 4-5 hours or LOW for 7-9 hours. The pork roast is done when it measures 145°F on an instant read thermometer inserted into the thickest part of the roast.
To Serve
Slice the pork roast in 1-inch thick chops.
To plate the dish, add some hot, cooked rice to each bowl, spoon some of the sweet potato and peach salsa with pan juices over the rice, and top with green onions, cilantro or parsley, and -if using- spicy sesame oil and chili sauce.
Notes
If your peach salsa is very garlicky, it will probably stand as enough garlic in the recipe. If it is mellow, you may want to bump up the garlic quotient by adding about 3 peeled, chopped cloves to the crock pot with the rest of the ingredients.
This is a dish no one will ever say no to. A delightful treat especially after a long tiring day away from home.
Happy slow cooking!
A very big thank you to foodiewithfamily.com for this recipe.