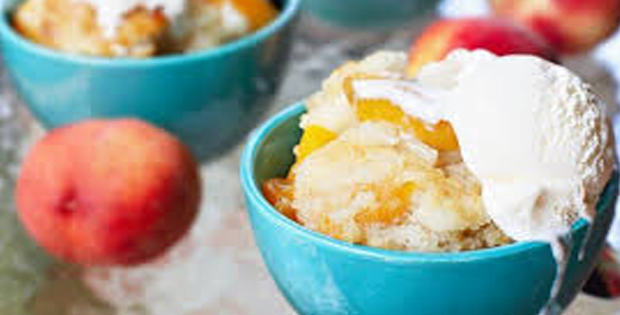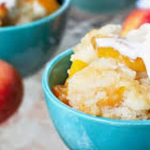 Yield: 6-8
Prep Time: 30 minutes
Cook Time: 2h 30 min
Print
Slow Cooker Peach Graham Cracker Upside-Down Cake
Peaches all the way topped off with a generous amount of ice cream, YUMMY!
Ice cream is basically one of the safest desserts you can ever serve. But Ice cream becomes much more appetizing if you use it as a topping for another amazing dessert. If you have never tried an Upside-down Cake, then this recipe is a great option for a first try.
I love peaches and when I found this recipe, I couldn't help myself from trying it on the spot. I would usually store a good amount of canned peaches if it isn't the season for such fruit. That way I can have it anytime I want to prepare something with it in the recipe.
Check out the recipe below.
Slow Cooker Peach Graham Cracker Upside-Down Cake
Instructions
Generously coat a 3 1/2- or 4-quart slow cooker with cooking spray. Add peaches to cooker. In a small saucepan combine the next three ingredients (through ginger). Cook and stir over medium-high heat until butter is melted and sugar is dissolved. Pour mixture over peaches; stir gently to coat.
In a bowl combine milk and crushed graham cracker. In a large bowl beat together the 1 cup brown sugar and 1/2 cup butter on medium until combined. Beat in egg. In a bowl stir together the next four ingredients (through nutmeg). Add half of the flour mixture to butter mixture, beating on low until combined. Stir in graham cracker mixture. Beat in the remaining flour mixture just until combined.
Spread batter over peach mixture in cooker. Cover top of slow cooker with foil; place lid on top. Cook on high for 2 1/4 to 2 1/2 hours or until a wooden toothpick inserted in the center of cake layer comes out clean, giving crockery liner a half turn halfway through cooking, if possible.
Turn off cooker. If possible remove crockery liner from cooker; cool, covered, up to 1 hour on a wire rack before serving.
To serve, remove lid and foil. To unmold cake, run a butter knife around edge of crockery liner. Place a large plate over the crockery liner. Using pot holders, carefully invert cake onto plate. Serve cake warm or at room temperature. If desired, top each serving with ice cream.
Notes:
PEACH-AND-CHERRY GRAHAM CRACKER UPSIDE-DOWN CAKE
Prepare as directed, except add 1/2 cup snipped dried cherries to cooker with the peaches and stir 1/2 teaspoon finely shredded orange peel into the flour mixture.
Now, if you want to try cooking an Upside-down cake for the first time, I highly recommend this recipe. It is definitely worth the first try. And you will certainly not fail in doing so. Top with vanilla ice cream before serving and I'm sure you will go back for seconds.
A very big thank you to bhg.com for this delicious dish!