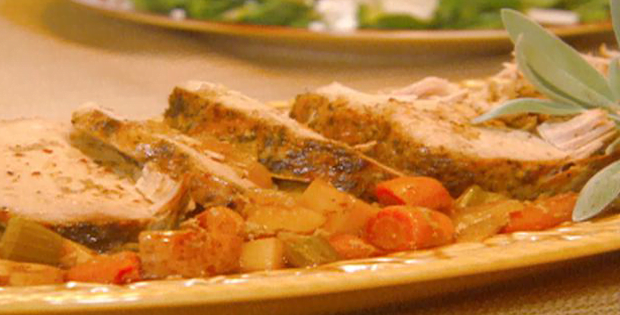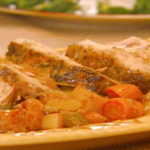 Yield: 4
Prep Time: 20 minutes
Cook Time: 6h 00 min
Print
Slow Cooker Parmesan-Sage Pork Loin And Watercress Salad With Sliced Pears, Goat Cheese And Toasted Pine Nuts
A loaded slow cooker dish that is simply heaven in a plate.
In cooking, especially during very busy days, I oftentimes try to go with recipes that are considered all-in-new. I adore recipes that are packed with all the nutrients and a variety of ingredients no one can resist.
This slow cooker is one of those that can give you exactly what I described above. It may not seem as complete as what you expect it to be, but it is certainly a dish that will leave you completely satisfied.
Check out the recipe below.
Slow Cooker Parmesan-Sage Pork Loin And Watercress Salad With Sliced Pears, Goat Cheese And Toasted Pine Nuts
Instructions
Place potatoes, onion, celery, and carrots in bottom of slow-cooker. Pour in chicken broth and sherry.
Season pork all over with salt and black pepper, sage and garlic and herb seasoning. Place pork on top of vegetables and top with Parmesan, pressing the cheese into the meat. Cover and cook on low for 6 to 8 hours or high for 3 to 4 hours.
Toast the pine nuts in a small skillet over medium heat until golden brown, about 2 to 3 minutes.
Arrange watercress on salad plates. Top with pear slices, goat cheese and toasted pine nuts. Drizzle with olive oil and sherry vinegar. Slice pork crosswise into 1/2-inch thick slices.
Serve 1/2 of the pork with this meal and reserve second half for another recipe. Serve all of the vegetables from slow-cooker and the brothy sauce with pork.
This is definitely one of my favorite healthy dishes. Aside from the fact that it is easy to make and super delish, my kids enjoy the meat with the veggies a whole lot. So that alone is a very big deal for me.
Hope you enjoy it. Happy slow cooking!
A very huge thank you to foodnetwork.com for this scrumptious recipe.