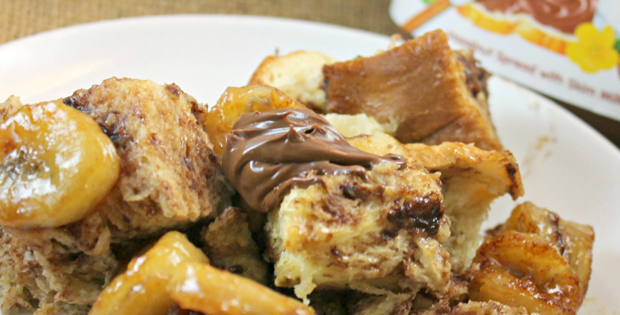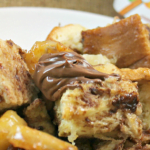 Yield: 4-6
Prep Time: 15 minutes
Cook Time: 2h 00 min
Print
Slow Cooker Nutella French Toast Casserole with Caramelized Bananas
A childhood treat that your slow cooker can turn into the finest desert.
This is a dish that everyone who loves Nutella will certainly love as well. And I am sure a lot of people you know fancy Nutella once in a while and even has some stashed away for a rainy day. And if you are one of those people who stashes this delectable spread and you have a slow cooker around, then you should definitely try this recipe.
It is actually a fun recipe to do. And I love taking my time doing this recpe. It gets me all excited coz I know my kids and hubby will enjoy eating it. And of course, there are so left-overs every time I have this as a dessert for them.
Check out the recipe below.
Slow Cooker Nutella French Toast Casserole with Caramelized Bananas
Instructions
Cube your bread and place it in the slow cooker.
Add the eggs, milk, cinnamon, vanilla extract, Nutella, and salt to a bowl and whisk to combine.
It won't fully combine, and that's a ok. Just whisk for a minute or two so that the Nutella looks evenly distributed and the eggs are whisked.
Pour over the challah bread in the slow cooker.
Mix so that all of the bread is saturated with the mixture.
Cover and cook on HIGH for 2 hours.
When there are about 15 minutes left on the slow cooker, slice your bananas and add to a bowl.
Add the brown sugar and mix to combine.
Add the butter to a saute pan over medium high heat. Add the banana slices to the pan (you may have to work in batches) and cook for about 2 minutes on each side or until the bananas have browned slightly.
Scoop out the French Toast mixture and top with a scoop of the bananas. Add a dollop of Nutella if desired.
If you love this recipe as much as my boys do, don't forget to leave your comments below and rate it too. Happy slow cooking!
A very huge thank you to icancookthat.org for this delicious dish!