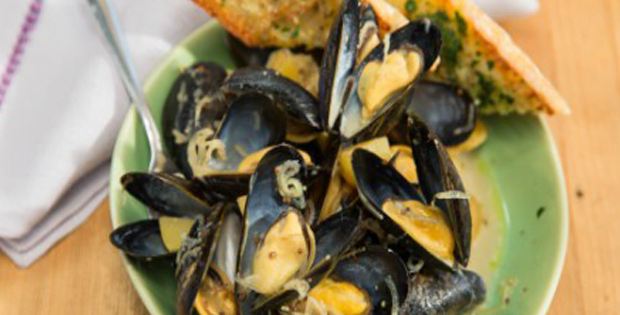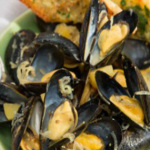 Yield: 4
Prep Time: 30 minutes
Cook Time: 2h 20 min
Print
Slow Cooker Mussels With A Creamy Wheat Beer And German Mustard Sauce
Beer and mustard in one dish. Sounds strange? Think again.
This is a recipe that seafood lovers and beer lovers will truly enjoy. I personally enjoy a good seafood dish and a bottle of beer once in a while. And what better way than to enjoy it in one dish, right?
So I got really excited when I came across this recipe. I said, it is worth a shot and I won't lose anything if it is a fail. But luckily, it was not a fail and is certainly a hit. The wheat beer and mustard creates a luscious creamy sauce that blends swell with the baby potatoes and PEI mussels that you will truly enjoy.
Check out the recipe below.
Slow Cooker Mussels With A Creamy Wheat Beer And German Mustard Sauce
Instructions
Put the potatoes in a saucepan and add cold salted water to cover.
Cover the pan with a lid, bring to a simmer and cook until just tender, 10 to 15 minutes. Drain.
Add the potatoes, beer, shallots, butter, mustard and garlic to a 6- to 8-quart slow cooker, cover and cook on high until the liquids are at a simmer, about 2 hours.
Season with salt and pepper, then add the mussels.
Cover and continue to cook on high until the mussels open, 15 to 20 minutes. Discard any unopened mussels.
Stir in the sour cream at the end and finish with the scallions on top.
Serve with toasted garlic bread or crispy potatoes for dipping.
This is best served with toasted garlic or you can use this as a dip for a bunch of crispy homemade potato chips. Try it out and tell me what you think.
Happy slow cooking!
A very big thank you to foodnetwork.ca for this awesome dish.