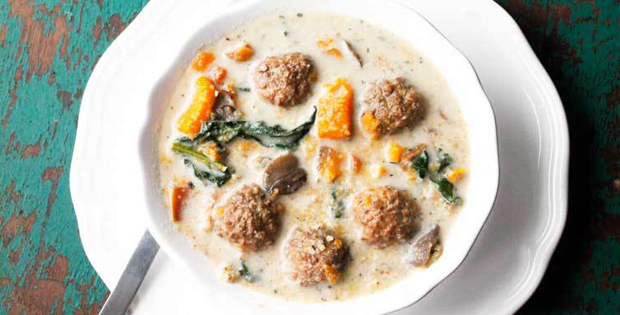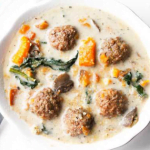 Yield: 3-4
Prep Time: 10 minutes
Cook Time: 6h 00 min
Print
Slow Cooker Meatballs, Sweet Potato And Kale Soup
Worry not while you are away from home with this very simple and delicious slow cooker soup recipe.
Soup is definitely one of the dishes that I could never get tired of. For me personally, it is a must have whenever we dine at home or out. This is especially a necessity if the other main dish is quite dry or if not dry, does not have any sauce.
Though my kids are not big fans of soup, I still make it a point to have some soup around and encourage them to have some. And to really make the dish appetizing then finding a recipe or coming up with a recipe with something they like in it would be a very big help.
Check the recipe below.
Slow Cooker Meatballs, Sweet Potato And Kale Soup
Instructions
Mix all ingredients EXCEPT milk and kale in your slow cooker. Cook on LOW for 6-7 hours.
Just before serving, mix 2 cups milk with 1/2 cup of the hot soup from the slow cooker. Add the milk mixture into the slow cooker along with the kale. Mix and let cook until kale wilts - should take just a few minutes.
Serve and enjoy!
This recipe does just that. It maybe a sweet potato and kale soup but it also has meatballs in it. Now, who doesn't like meatballs, right? It may not be in a spaghetti dish but the meatballs here are as good as it gets. So try the recipe out and tell me if it passed your taste test.
A very big thank you to smilesandwich.com for this scrumptious soup recipe.